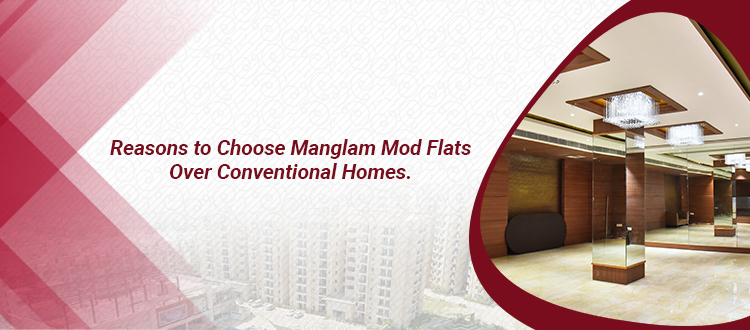 Reasons to Choose Manglam Mod Flats Over Conventional Homes
Most of the people in India are not friendly with the idea of living in flats because the conventional thought process of having their own land or property seems to be satiated while living in traditional homes only. But, with the advent of time, necessity, and growing population, it is impossible to avail every humankind with his/her own land. That's where the idea of flats comes into existence.
That is the reason why Manglam Group comes up with a series of flats in Jaipur, which gives all-accommodated vibes of a conventional home, as well as mod flats.
Let's check out some of the reasons why you should opt for flats rather than homes
Avails More Open Space
Whether your home is in a posh society or not, seeing the increment of population, it will anyhow be crowded with other homes in the surrounding. Which, in turn, will block the ventilation and open space of your home. It doesn't matter how much you spend in your dream house; it will be blocked from three of the sides in no time soon. But flats, on the other hand, offer you plenty of open space, balconies, and garden areas, all in greens. These elements help to keep you fit and healthy on a long-term basis.
Saves You from the Hassle of Construction
To bring home your imaginations into existence, you'll need a lot of time, energy, and effort to invest. It will consume plenty of quality time of yours, and as the time will pass by, you'll feel your home needs changes again. A better idea in this scenario is to opt for a flat of your choice and do the interior in it as per your choice. Keep on changing the furniture and interior from time to time, and keep the vibes around you all-fresh.
Offers Utmost Security & All-Amenities
Living in flats can never go out of style as the pool of amenities flats offer are always in demand. Be it an in-house gym, theatre, clubhouse, swimming pool, or activity area, flats in Jaipur or anywhere offer it all. You cannot find all of these while living in conventional homes.
On the other hand, if you're a senior citizen and living with your companion, or a single parent, or a single person living all alone in a space, then what you need the most is security. Flats offer you an intense sense of security through various security systems, cameras, as well as a 24X7 watchman. No one can enter your home without passing through these protected systems. While considering these attributes, you can clearly understand that conventional homes can never come up with this much level of security.
So, it is very obvious that flats are the demand for the future. And, if you're searching for flats in Jaipur that propose you with all the necessary amenities, then Manglam Group is here with all sorts of options for you.
Happy Home, and the Happiest Vibes to All!