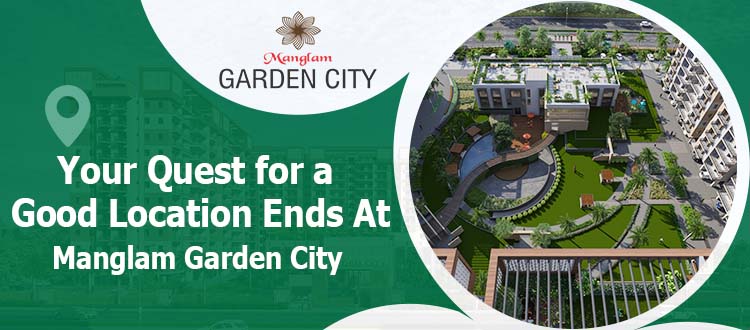 Your Quest for a Good Location Ends At Manglam Garden City
When buying your dream home, every other aspect of the home, be it interiors or the size of the house, everything can be changed except for the location.
So it is important to prioritize location while buying a property. Purchasing flats in Jaipur in a good location like Mansarovar Extension can be a very good decision. Manglam Garden City is a beautiful project by Manglam Group near Terminal Market, Mansarovar Extension that offers 3 BHK flats in Jaipur. These flats in Jaipur at Garden City are the perfect investment in your happiness and future, and if you are ready to know the reason why, this blog is for you. 
Locality
Manglam Garden City is located in one of the most popular localities of Jaipur, Mansarovar Extension. The flats in Jaipur are in close proximity to some of the great areas like Mansarovar, Shayam Nagar, Malviya Nagar, and Sanganer. Also, some of the best luxury residential projects are located in this area. If you are ready to live in a location where you can enjoy yourself among people who configure your standards, Manglam Garden City is perfect for you. 
Physical Infrastructure
Garden City is well connected to some of the most important infrastructures in Jaipur. From railway stations to international airports like Jaipur International Airport, everything lies at a convenient distance. Also, some of the recreational infrastructures like multiplexes like Galaxy Cinema and First Cinema and prestigious temples like the Iskcon Temple lie close to these flats in Jaipur. 
Social and Retail Conveniences
The 3 BHK flats for sale in Jaipur are located nearby some of the most popular shopping destinations of the city. The World Trade Park,  Crystal Court Mall, and MGF Metropolitan Mall lie in a region of easy accessibility. Also, the biggest vegetable and fruit market of Jaipur, the Terminal Market is proximally located. Furthermore, major hospitals like Dhanvantri Hospital and Fortis Escorts Hospitals and some popular and reputed schools like St. Anselm's, St. Xavier's, and Step By Step are situated within a few kilometres. 
Nearby Employment Hubs
The Manglam Garden City, located in Mansarovar Extension is perfectly located nearby the best occupational prospects. The integrated business city, Mahindra Sez has more than 90 well-established companies and more than 7500 employees are located within minutes from the 3 BHK flats in Jaipur Mansarovar Patrakar Colony. Moreover, Mansarovar Extension is witnessing major infrastructural expansions and future development prospects.
Manglam Garden City is beautifully designed and developed real estate projects in one of the most captivating locales of Jaipur with the enormous possibility of growth and development in the future. Before buying your dream 3 BHK in Jaipur, make sure it matches your lifestyle and desires.