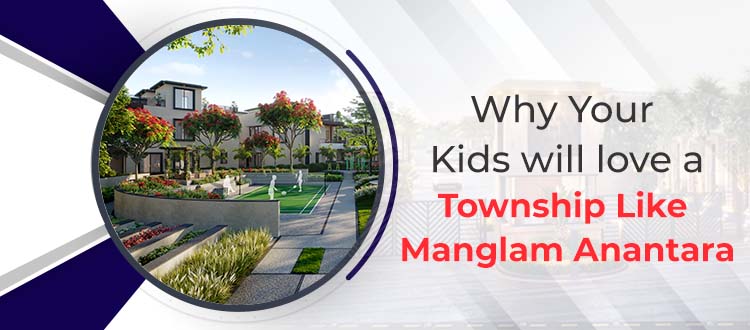 Why Your Kids will love a Township Like Manglam Anantara?
Jaipur's real estate market is seeing an increased demand for gated townships like Manglam Anantara
Manglam Anantara is a beautifully integrated township on Ajmer Road that offers 4 BHK luxury villas in Jaipur. Townships are the perfect solution to city life full of hassles. Along with being a perfect location for you, Manglam Anantara will also be the top choice for your kids. Your kids will love living in Anantara. Do you want to know the reason why? Some of the reasons are mentioned below.
Plenty of Open Spaces
Manglam Anantara offers plenty of open spaces. Open green spaces enhance the quality of living and encourage children's creativity and imaginative powers. One can really benefit from greenery and open spaces. Especially for children, indulging in greenery improves their cognitive development. Open spaces like gardens and lush greens can make them healthier, agile, and better academically. Villas in Jaipur by Manglam Anantara are surrounded by 1.5 acres of multiple gardens and offer a tranquil environment for children to play and have fun.
Children Friendly Amenities
With the changing lifestyles of city people, they also lack time to unwind and relax. In this situation, they can barely go out or enjoy themselves with their children outdoors. In this situation having children-friendly amenities right outside your doorstep will allow you to spend some time with your child outdoors. Also, they can go out and enjoy themselves with their friends within the gated premises with full safety. Manglam Anantara offers amenities like a swimming pool, kids' play area, open badminton court, indoor sports facilities, and ample green spaces that allow children to enjoy and have fun with comprehensive security and safety.
Safe and Secure Environment
One of the best things about Manglam Anantara is its highly secured premises. The beautifully integrated township in Neemrana is equipped with major security factors like CCTV surveillance, gated premises, 24/7 security guards along intercom services. All of these factors make it a perfect location for kids to enjoy freely. Parents don't have to bother about their kid's protection within the township.
All of these are the major reasons why Manglam Anantara is a children-friendly township. Your kids will love to live here and enjoy and endure their childhood in the protection of the township on Ajmer Road. Manglam Anantara offers 4 BHK villas on Ajmer Road that are well-developed keeping the needs of modern families in mind. The township in Jaipur offers all the state-of-the-art amenities that make it a perfect spot for you and your kids to relish life and enjoy every part of it.