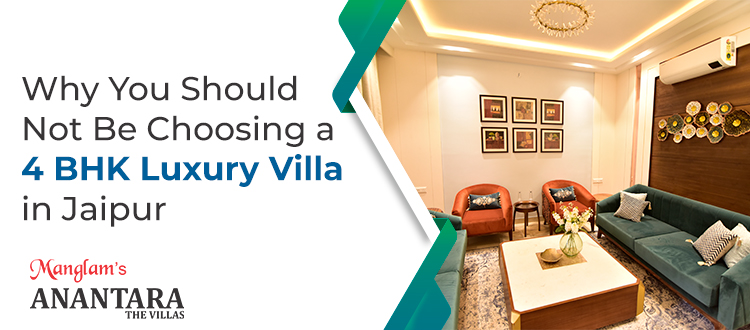 Why You Should Not Be Choosing a 4 BHK Luxury Villa in Jaipur?
You might have been shocked while reading this heading! But wait a minute and
read this carefully.
Down from an era, one real estate type that has gained the maximum attention of the
property buyers has definitely been villas. Villas are considered as the finest type of
property one can invest in. However, you might be wondering as why we have
already been a little critical in the heading as to why you should take a step back
from investing your money in villas in Jaipur. The only reason is that you might fall in
love with how the 4 BHK luxury villas in Jaipur by Manglam Anantara make you
feel and might never want to leave your beautiful home! Anantara, a beautifully
integrated villa project by Manglam Group is stand-alone one of the finest villa
projects in Jaipur with world class amenities and features. This villa project offers
you every single niceties your heart has ever dreamt of.
Manglam Anantara stands apart from every other villa project with their biggest size
villas as well as the world class amenities that leaves no room for any discomfort.
The villas in Jaipur comes with great security features as they are inside a gated
community with security guards and 24*7 CCTV surveillance. The one factor that
was kept at utmost importance while integrating such a beautiful project was the
safety and security of those living in it as evidently, it has been taken good care of.
Not only just safety, but the 4 BHK luxury villas in Jaipur offer exciting and
enthralling recreational indulgences like a luxury clubhouse, miniplex, swimming
pool, indoor sports area, as well as lifestyle amenities like kids play area and
gymnasium. The one thing you can rest assured while you pick Manglam Anantara
as your next home is that you would not be compromising either on your lifestyle or
safety but only upgrading it. At these luxurious and beautiful villas, there is no room
for any dissatisfaction, just pure bliss and comfort.
Manglam Anantara, located on one of the finest locations of Jaipur places you with a
beautiful and relaxing surrounding with all the necessary institutions only minutes
away. Either you plan to send your child to a promising high school or want a good
hospital just near you, rest assured, Manglam Anantara has got it all covered for you.
There is nothing more pleasing to live in a home that's safe, beautiful, and supports
your lifestyle but also upgrades it. All of it comes true at the villas on Ajmer Road
by Manglam Anantara. I hope reading all of it justifies how you are going to fall in
love with your dear abode and never want to leave your home.