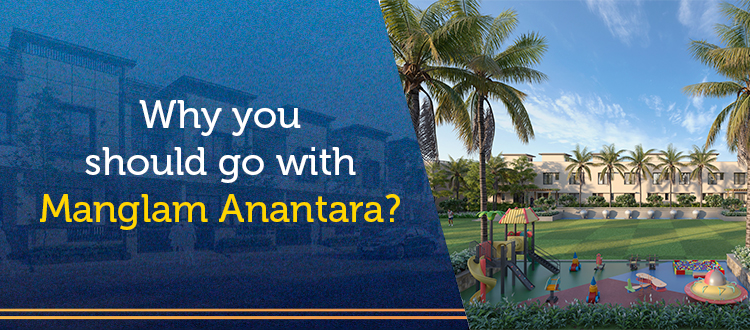 Why you should go with Manglam Anantara
Premium locality, aesthetic design home, long-spread lush green garden is what everyone wants.
If you are purchasing a property, then you should go for a villa. Anantara villa is a luxury 4 BHK villa demarcated at Ajmer Road. It is a well-planned city with a cherished environment to live in. It is a heaven for people who are looking for a tranquil environment & luxury amenity. When you want luxury living, no one is better than Anantara:
The Villas! So why you should go with Manglam Anantara? What makes it different from others?
Well-planned Villas: Get a liveable facility! When you want a luxury place to live, you should go with the well-planned places to live. Villas are constructed with premium flooring, aesthetic design, high-quality construction material, branded equipment & sheer house architecture.
Augmented Lifestyle: The luxury villas are developed at Ajmer Road, Near Pink Pearl Water Park. You will get a luxury living with 24-hour water & electricity and power backup for the common area. Apart from the luxury clubhouse, elements like badminton court, 1.5-acre lush green garden, gymnasium, miniplex, multipurpose hall are brought together for a remarkable lifestyle.
Safe & secured living: A reliable and safe place is always a priority for families and retired personnel. Manglam Anantara is a luxury place with trustworthy & secured living with an installation of an advanced security system like CCTV surveillance, 3 tier security system, intercom to avoid trespassing. For a holistic living experience, our security personnel is on the lookout round the clock.
Living away from pollution: The villas with luxury amenities include a lush green garden & planned areas for kids, senior citizens, and for society meetings. The most important element of a luxury villa is fresh air &a pollution-free environment. You will get a hygienic environment and ensure no littering that ruins the community lifestyle. A door-to-door garbage collection facility is also provided to keep the environment clean and hygienic.
Manglam Anantara is the best place to live with all the luxury amenities. When you purchase Anantara, the add-ons make you believe that luxury is not just a word but an experience to feel.