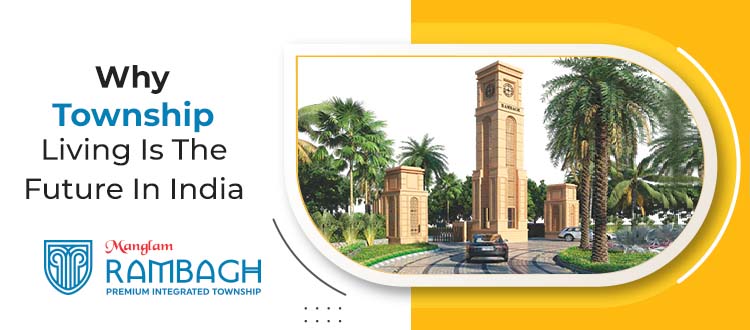 Why Township Living Is The Future In India?
In today's era, there is a constant transformation.
Towns are transforming into cities, cities into megacities, and the residents are more inclined towards township living. More and more families are picking townships for their future homes.
Among all the residential and commercial properties in Neemrana, Manglam Rambagh is a luxury township in Neemrana that stands above the crowd with its premium residency quality. They offer residential and commercial plots in Neemrana among the lush green surroundings with high-end amenities and conveniences. This is one of the best projects one can choose for township living.
Let's look at some of the other reasons why township living is the future in India.
Community Expansion:
As the world is a global village, the urban community is becoming a modern-day standard. A community is a place where people with similar interests and lifestyles start living together in harmony like a large close-knit family. Manglam Rambagh is one such township where residents can form strong bonds with fellow residents and also enjoy all amenities without any discrimination.
Balanced Environment:
A home determines the nature of the person. A home in a surrounding that promotes good mental and physical health and encourages to take part in sports and other physical activities is the ideal living place. Manglam Rambagh is stretched over 80 acres of lush green land with various sized plots in Neemrana for your investment.
Reliability:
With modern lifestyles, individuals get less and less time to spend on tiny home issues like plumbing or electrical issues. No one wants time to spend their Sundays on those petty house works. At Manglam Rambagh one can live a tension-free life with his family away from everyday hassles.
Top-Notch Security:
Life in cities is often filled with tension and worry. One is always in constant worry of their loved ones, for their safety and security whether they are at home or outside. Now, townships have found many advanced security systems. At Manglam Rambagh, one doesn't have to worry about anything. They can freely be anywhere without the constant worry of their family at home. This luxurious property in Neemrana is fully secured with gated security and other safety standards.
Shrinking The Distance:
Townships place you in between all the conveniences of daily life. You don't have to travel to far-off places to access common facilities. This saves your time and also avoids the fatigue of traveling. Everything comes within walking distance to you in townships. Manglam Rambagh offers high-end amenities like a modern gymnasium, mini theater, function lawn, fitness studio, swimming pool, play area, and other luxury amenities, all near you just within walking distance.
One of the main reasons for preferring townships is the quality of life it provides. A township understands the needs of the average resident and provides them with the best package one could hope for from a house. The location, amenities, culture, and sustainable living make a township the ideal place to raise a family in cities like Jaipur.
Be a part of the Manglam family and buy the property for sale in Neemrana.