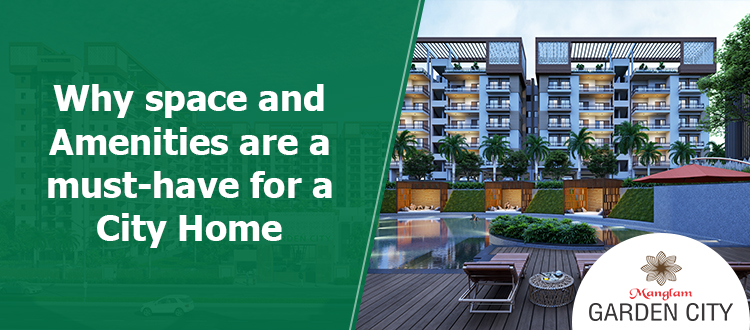 Why space and Amenities are a must-have for a City Home
Everyone fantasizes about escaping to a bucolic setting, whether in the mountains or amongst vast fields of grass. To make ends meet, though, urban life is a need. Landscaping and open spaces in 3 BHK apartments in Mansarovar Jaipur contribute to a more relaxing environment. You'll be able to escape the city's cramped quarters and into a house that's as vast as it is pleasant, all while being surrounded by lush vegetation.
Even if it's only to take a break from the frenetic pace of daily life, these kinds of comforts and natural spaces are essential. Let's talk about why they're so important to city dwellers.
Charming vistas
When compared to words, pictures have always had a greater impression on people. To a greater extent, we rely on sight. Envision yourself opening a window or going outside to see beautiful gardens and open areas. After a long week at work, this is the perfect way to unwind on the weekend. It has the power to rapidly improve your disposition and keep your mind in good shape.
Get out of the Pollution Problem
The city of Jaipur is home to several high-end apartment complexes located in the heart of both business and residential districts. Cars and trucks constantly clog the streets, contributing to constant noise and air pollution. On the other hand, your apartment complex is a verdant oasis. As the plants filter the air, the atmosphere changes. The upper-floor apartments are far from the bustle below, so the inhabitants may live in relative quiet.
Adopting a wholesome way of life
Having access to fitness centers, swimming pools, parks, and walking trails might encourage residents to adopt a healthier way of life. In the evening, seniors may go for peaceful strolls. Children may safely run about, roller skate, play, etc. When it becomes too hot in Jaipur in the summer, you may cool down with a refreshing swim. Since most of us spend our days sitting at desks, going to the gym is a good idea for everyone.
In addition, the plant serves as a pollution barrier, allowing for clean air throughout the building. Asthma and other respiratory illnesses are less likely to develop as a result. Having access to such areas and facilities makes it easier to maintain a healthy lifestyle without having to leave the house.
Healthy social life
Being social creatures, people require contact with others to enjoy a stress-free existence. However, leaving the house and interacting with others might become a chore and a waste of time. It's much easier to meet new people and have fun when you're not always traveling to nearby restaurants and bars. Many residents of large apartment complexes get together to celebrate holidays as a community. The swimming pool, fitness center, and badminton courts are great places to find people with similar interests. Children also get to meet and play with their classmates in the park. The thing old people find most missing in the latter phases of life is the absence of communication. But here inside the 3 BHK flats in Jaipur Mansarovar Patrakar Colony complex, they find other individuals of their age to socialize with. There is enough time spent with friends and family for everyone.
For us, at Lifestyle Housing, it's all about helping our clients find the ideal balance between their professional and personal lives. Each of our developments has picturesque landscaping and high-end fixtures. Separated from the traffic and pollution of the city streets, our luxurious 3 BHK apartment in Mansarovar Jaipur provides a convenient location without sacrificing peace.