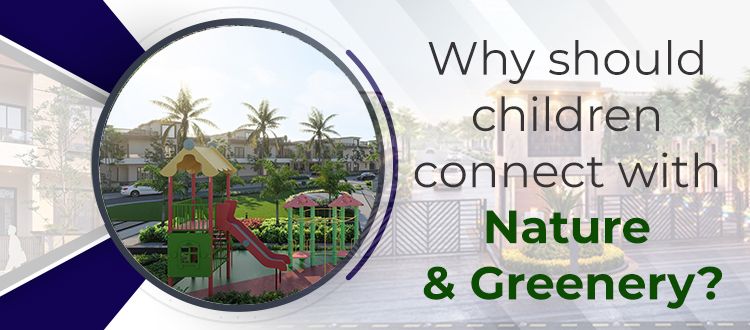 Why Should Children Connect With Nature & Greenery?
Not just pleasing to the eye, greenery also plays a great role in a child's mental, physical, and psychological development and well-being.
Regular exposure to greenery greatly influences growth in children and affects their mental state positively.
Manglam Anantara offers luxury 4 BHK villas in Jaipur with 1.5 acres of landscape multiple gardens and is surrounded by lush green and clean environment that offers your child ample space to play and cruise around.
Let's look at some of the reasons why interaction with greenery is important for child development.
It builds confidence:
The way a child interacts with nature says a lot about their character. There are infinite ways for a child to interact with the environment from parks to even big playgrounds. Parents should allow children to freely interact with the greens and learn to control their own actions.
It promotes creativity and imagination:
The unstructured style to play in an environment encourages children to think creatively and expand their innovative capacity. The villas on Main Ajmer Road at Manglam Anantara are not only spacious but provide an opportunity to connect with nature.
Teaches commitment and responsibility:
Having plants and ample greenery all around teaches children to take proper care of them. This raises a sense of responsibility among them.
It provides various simulations:
Children love to play in a garden amidst greenery. This helps in activating various senses of children such as smell, see, feel and hear nature. This develops their senses.
It gets them moving:
Playing and running can be a part of the exercise. Even a small stroll can boost their heart pumping. Leisurely time spent in gardens by children would be a great activity for them and they will be more conscious of their health from a very young age.
It makes them think:
The environment creates a unique sense of curiosity in children. The simple everyday phenomena of the environment make children think and ask questions which increases their cognitive power.
Reduces stress and fatigue:
Spending time in an environment increases positive energy and decreases stress and fatigue levels in children. The energy derived from the environment also helps in decreasing stress-related depression in children.
Spending time in front of screens might seem like an exciting idea, but spending time in nature increases cognitive and physical skills and also boosts the mood of children. Children should be encouraged to spend more time outdoors.
Manglam Anantara offers luxurious 4 BHK villas on Ajmer Road with ample green surroundings that allows your children to spend time outdoors in lush greens and increase their skills and maintain their physical and mental health.