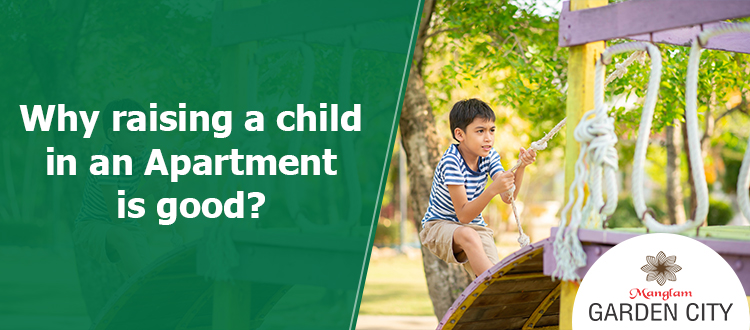 Why raising a child in an Apartment is good?
Apartments are no longer only for singles, bachelors, and young couples looking to save
money on housing. Thoughts that "children can't be raised correctly in flats" are no longer
widely held, and 3 BHK flats in Jaipur are today among the most child-friendly and safest
places to raise kids. In this blog post, Manglam Garden City, one of the most reputable and
premium builders in Jaipur attempts to probe six truths regarding parenting children in urban
dwellings.

A sense of Security
While the exact amount of safety provided may vary from building to building, apartment
living, in general, is safer than residing in a single-family home.
Considering that one of the most important things to consider while raising children is their
safety, apartment living is undoubtedly the best and most quiet alternative.
To protect its tenants from harm, contemporary apartments have included elements such as
round-the-clock security, CCTV cameras, a resident-approved entry system for visitors and
guests, etc., in addition to the standard security gates.
Improved ties to loved ones
Because of the intimate nature of an apartment's layout, members of a family can better
focus on and communicate with one another. As a result, you can be certain that you'll have
plenty of quality time with your family, and that your relationships with each member will
grow to the point where you'll always be there for them, even when things go tough.
This aspect of reconnecting with family on a human and emotional level is especially
important at a time when people are so preoccupied with their own digital devices and online
space.

It's simple to make and keep friendships with classmates
Having children in an apartment building is a one-of-a-kind adventure. With so many other
kids in the facility, it's natural for kids to gravitate toward one another and form bonds with
those from different homes.
Apartment complexes featuring child-friendly features, such as playgrounds, gardens, play
schools, kindergartens, libraries, and more, provide kids of all ages plenty of ways to have
fun and learn while giving their parents more freedom and less worry. 3 BHK apartment in
Mansarovar Jaipur is available from a reputable developer, which is the prestigious
Manglam Garden City.
Satisfied feeling
When you downsize to an apartment and learn to appreciate the simple pleasures of life with
the people you care about, you may discover that you don't need all that much material
wealth to be happy.
Because of the close quarters of apartment living, children are more likely to pick up on their
parents' beliefs and ideals and want to incorporate them into their own lives. They will learn
early on that they don't have to conform to societal norms or follow the crowd to be happy.
The apartment is one of the most reputable construction companies in Jaipur, offering two
and three-bedroom apartments in Jaipur that are thoughtfully designed to meet the needs of
contemporary families. Our homes have cutting-edge gadgetry that makes it possible for our
residents to enjoy a standard-setting level of contemporary comfort.

Reduced availability of resources
The inherent limitations of apartment living tend to produce residents who are more inclined
toward minimalism. Every day, you'll be forced to face the truth of your living situation and
decide once again what belongs in your house and what must go.
Because you have to give more consideration to purchases that aren't necessary, you end
up saving money. Therefore, this idea will assist you in striking a balance between your
child's toys and their regular daily needs.

Having more financial options means
A spacious, comfortable home with four bedrooms is ideal. However, the cost of upkeep and
repairs on such a residence is likely to be high. Moving into an apartment will allow you to
save a substantial amount of money each month, which may then be used toward your
children's future education or other family necessities.
Living in a 3 BHK flat for sale in Jaipur will provide you with a lot more freedom to do the
things you want without having to sacrifice your financial stability. You can do anything from
taking weekend excursions to exploring other countries with your loved ones.