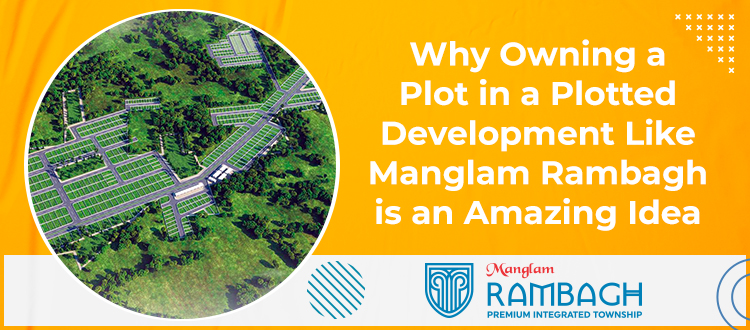 Why Owning a Plot in a Plotted Development Like Manglam Rambagh is an Amazing Idea
Real Estate investments can be challenging. The process is truly demanding physically, mentally and of course financially. If you are someone planning to invest in a plot but are confused about whether you should buy a standalone property in Neemrana or in a plotted development like Mnaglam Rambagh, this article answers your query. Every buyer has their distinct desires and expectations, which are beautifully answered at Manglam Rambagh.
Manglam Rambagh is a strategically developed plotted development that offers plots in Neemrana, perfect for you to give structure to your dreams in a beautiful city like Neemrana. 
Let's see why buying a plot in a gated community can be an amazing idea.
Luring Landscapes
The plots in Neemrana in Manglam Rambagh are surrounded by 1.5 acres of ravishing vistas as well as beautiful scenes that allow residents to indulge in a serene life surrounded by nature enjoying the lap of nature. 
World-Class Amenities
The most fun part of owning a property in Neemrana in the gated development Manglam Rambagh is the excellent amenities it delivers. They offer lifestyle amenities like a swimming pool, well-equipped gymnasium, mini plex, multipurpose hall, kids' play area, luxury clubhouse, and many other features. 
Amicable Social Surroundings
Plots in gated communities bring together people of the same socioeconomic standing allowing them to form better bonding. This not only improves their relations but also allows them to develop lifelong bondings. 
Privacy and Security
The plots for sale in Neemrana are designed in such a way as to foster private spaces for the residents. Also, gated communities block the speeding vehicles on the entry gate itself allowing residents to walk or children to cycle on the roads without any fear. 
Shared Expenditure
Economically, the one best thing about plots in gated communities is that you don't have to take on the security and maintenance expenditure alone. In a gated community, revenue is shared among residents reducing the burden on a single-family. 
There are plenty of benefits attached to buying a plot for sale in Neemrana in a gated township like Manglam Rambagh. This project offers a plethora of comforts that are unbeatable and untouched. So if you are ready to make an investment that aids your lifestyle and gives you multiple benefits, Manglam Rambagh is perfect for you.