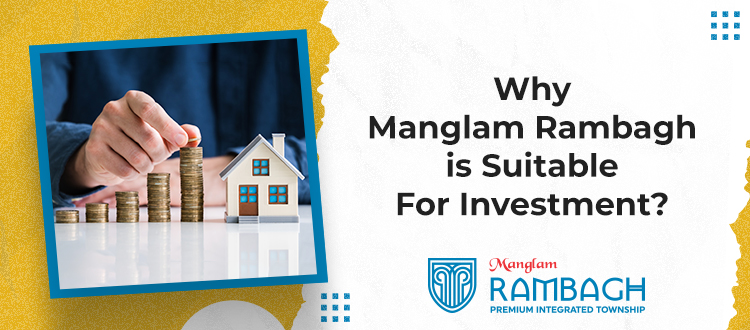 Why Manglam Rambagh is Suitable For Investment?
Manglam Rambagh, which is a premium Township in Neemrana places you at the prime most central location of Neemrana. Situated on the main Jaipur-Delhi Highway, overlooking the industrial areas and just a drive away from RIICO Circle. It is regarded as the industrial capital of Rajasthan, and a growth catalyst in Rajasthan. Also, it is one of the smart cities of the ongoing road development project of the Delhi-Mumbai Industrial Corridor, which is being developed in collaboration with the Japanese government.
At present, Neemrana is emerging as one of the popular real estate destinations for investment due to its quality infrastructure and planned development. It is growing better as there are many upcoming projects. There is a blend of advantages you experience while living at the property in Neemrana, not just suited for residential purposes but also commercial purposes. There are some of the factors which make Neemrana a preferred place of residence:
Railway Station and International Airport:
RRTS, which is Delhi-Alwar Regional Rapid Transit System, is an ongoing 164 km long, semi-high-speed rail corridor connecting Delhi, Gurugram, Rewari, Neemrana, and Alwar. A part of it will pass through the area. There is also a cargo and international airport present nearby which facilitates easy air transportation.
Schools and Hospitals:
Due to its world-class infrastructure and connectivity to other places in Rajasthan, it is closely located to hotels and hospitals which make for a great social infrastructure. This helps the residents to get their children admitted to highly recognized schools and universities such as NIIT, Raffles University, and the School of Aeronautics. Some of the hospitals like Max Force Hospital, City Hospital, etc are nearby and can be visited in case of medical emergencies.
Business Centres:
As an industrially growing hub, it has some upcoming renowned commercial centers and business projects. Apart from this, it is about building a service clubhouse that can provide plenty of leisure areas where one can connect with oneself and discover the little joys of life. Thus, investment in plots in Neemrana is definitely going to provide good returns in the future.
Manglam Rambagh is a prosperous real estate destination for investment, even for commercial property in Neemrana. The presence of social infrastructure and availability of transportation facilities boost the area's connectivity to nearby cities, such as Jaipur, Alwar, and Delhi. Along with this, the prospective DMIC is the main reason behind the area's growth.