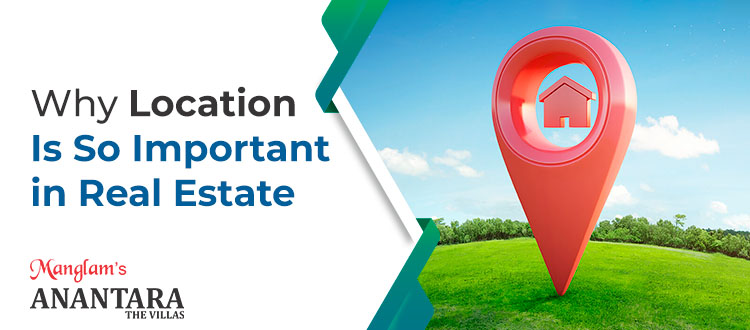 Why Location Is So Important in Real Estate
The one major factor that greatly influences the real-estate value is its location.
All the other factors like the structure, interior, or the amenities available can be changed but one factor that remains constant is the location. You may easily find a beautiful house, but until it is not located in a good area, it's never the best idea to invest.
Manglam Anantara is a beautiful villa project in one of the best locations of the city and offers 4 BHK luxury villas on Ajmer Road that are perfectly fit for you to invest in a luxury life for you and your loved ones.
So, if you are planning to buy a home, consider the following location factors before investing in a villa in Jaipur.
A safe neighbourhood
Everyone wants to live in a safe community without any fear of crime. Naturally, everyone wants to feel safe in their homes. A safe environment allows the residents to freely walk around and enjoy some good time outdoors. The villas in Jaipur are equipped with major security facilities and offer residents a very safe and secure environment for themselves where they can thrive.
Good Schools
For families with children, one factor that holds much importance to them is the availability of schools near their home. Also, the presence of schools nearby positively influences the property value appreciation too. The villas on Ajmer Road are located in close proximity to some of the best schools and universities.
The proximity of Important Services
Some important services like markets, shopping districts, and leisure zones must lie in proximity to your home. This allows the residents to access the markets for their small needs, and visit recreational zones with their families without having to travel very far away. The 4 BHK luxury villas in Jaipur are Strategically located in close vicinity to the city where you can enjoy extreme connectivity to major conveniences.
Views Around The Home
It's always better to have a home surrounded by beautiful panoramic views. Not only does it add to the beauty of your home but also fills your life with peace. Manglam Anantara is surrounded by 1.5 acres of a private garden that fills the life of residents with serenity and composure.
Commute Facilities
A good location means being very close, and having easy access to public transportation. Before buying a villa in Jaipur, make sure of the transportation facilities available and distance from railway stations and airports. Also, distance to commute facilities influences property prices.
These were a few factors that are the most basic yet important characteristics of a good location. However, the idea of a good location is entirely subjective and depends on an individual's preferences. The 4 BHK luxury villas in Jaipur are located in one of the most promising locations of the city with a promise of forthcoming developments. If you are planning to buy a beautiful home in a good location in Jaipur, the luxurious villas in Jaipur by Manglam Anantara are perfect for you to fill your life with indulgence and peace.