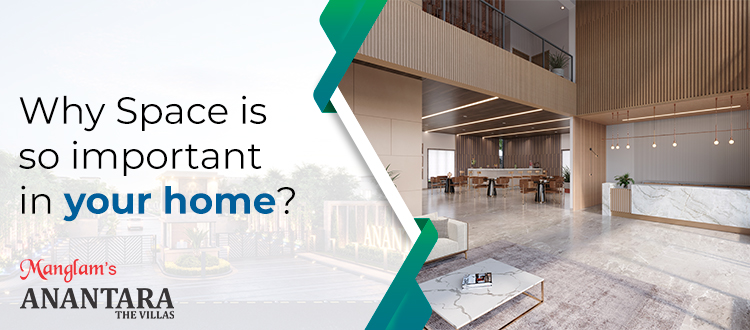 Why is Space so important in your home?
It is a common belief that larger is superior. These expressions are often used in reference to large items like cars and televisions. This is true the vast majority of the time, if not always. In most cases, a larger version of a product will have superior functionality, durability, and other advantages than its smaller counterpart. Our Villas on Ajmer Road are no different in this regard. Some of the justifications are listed below.
Embellishments for the Home
Simply said, more stuff may be stored, displayed, and otherwise used in a larger living area. There are fewer constraints on the kind of furniture that may be placed in the rooms, and there is more than enough wall space to hang all of your preferred artwork in your 4 BHK luxury villas on Ajmer Road. Pieces of furniture that would be deemed "not the most required" for a smaller dwelling might feel well at home among the basics in a larger one. The abundance of fresh air that comes from the room's open layout benefits not only people but also the indoor plants. If you have an insatiable appetite for decorating, the best course of action is to acquire as much square footage as possible. In addition, you have more leeway in a larger room to experiment with alternative layouts and styles by moving pieces of furniture around at will.
Space to Accommodate
The decision to purchase 4 BHK luxury villas in Jaipur is often a life-altering one. This involves thinking about the possibility of having children and expanding the family. When planning to have a family, it's important to have as much space as possible, and this is where the extra rooms in a larger house come in. After all, you and your partner will eventually have to spend some alone time without the distraction of your kids. Parents, grandparents, and other relatives who may drop by on occasion find it quite convenient to have a spare bedroom available. When it comes to hosting a larger group, having more bedrooms is almost always preferable.
Work-from-home
For many of us, it's true, we have come to fear hearing these words. Unfortunately, we'll have to keep putting in temporary remote-work hours so long as COVID-19 is still there. When you have Luxury villas in Jaipur, you may set up an entire area for your home office, making working from home much more convenient. Separating work and play is also facilitated by this, which is the most challenging aspect of working from home. It's more challenging for sound to move from room to room in a larger house. This comes in handy during meetings and presentations when you don't want any extra distractions.
You don't have to worry about extra space when you register 4 BHK luxury villas in Jaipur at Manglam's Anantara. It is the spaces between people where the winds of compassion, love, and comfort flow. So, book a spacious villa and experience the luxury of living in a big space.