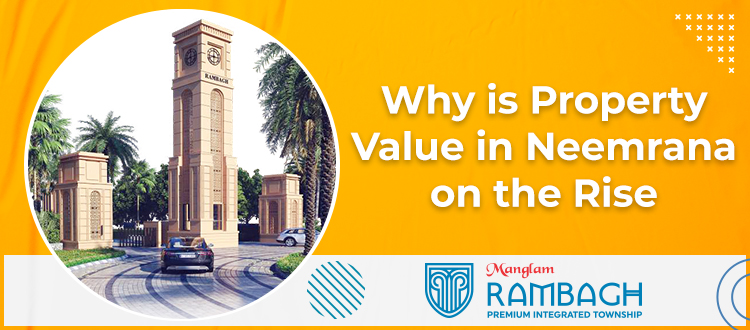 Why is Property Value in Neemrana on the Rise?
Neemrana is emerging as a prime real estate hub in recent times. Many factors have led to this development. A constantly advancing number of investors are picking plots for sale in Neemrana as their preferred choice of investment. The town has observed significant development and we are here to discuss what has led it to become the prime real estate hub in Rajasthan.
Manglam Rambagh is one of the plotted developments in Neemrana that offers residential and commercial property in Neemrana that are perfect in every sense to build your dream home. 
Location and Connectivity
Neemrana is located on the main Jaipur-Delhi Highway (NH-8). This location serves excellent connectivity to the major cities of Rajasthan as well as the national capital of India. Delhi is at around 120 km, Gurgaon is at 88 km, Jaipur is at 1476 km, and Bhiwadi is at 53 km from Neemrana. The plots in Neemrana are perfectly located serving excellent connectivity making them an excellent choice of investment. 
Industrial Growth
Neemrana is witnessing advanced industrial growth. The town holds the special attention of the Rajasthan Government and they already have initiated multiple projects and developed many industrial zones in the town. This will lead to increased job prospects in this region which will further boost the market for residential projects.
Infrastructure Development
Neemrana is rapidly advancing as a real estate hub. It has witnessed huge advancements in infrastructural growth and is attracting potential investors on the line.  
It is also becoming a preferred choice for weekend getaways.
Real Estate Boom
Neemrana offers multiple options in properties. However, one fine investment choice is the plots for sale in Neemrana. The town is becoming one of the preferred choices among home buyers. Multiple factors positively dominate while investing in one of the plots in townships like Manglam Rambagh. 
Strong economic drivers are contributing to the real estate growth in Neemrana which include rapid industrial development, good connectivity, and numerous employment opportunities. Looking at the trends, the plots in Neemrana are a perfect investment choice as it promises a high return potential as well as great lifestyle advancement.