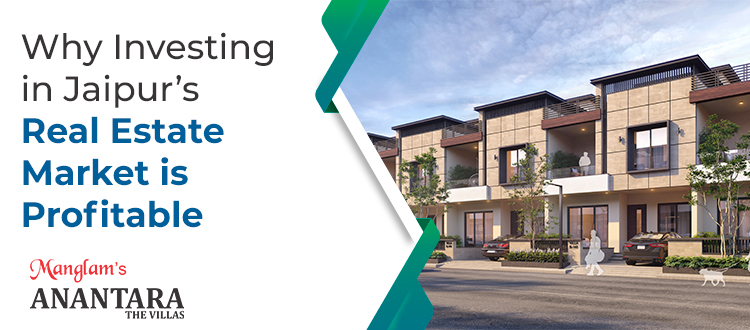 Why Investing in Jaipur's Real Estate Market is Profitable?
Jaipur has always been a major attraction for property investors all around the globe. The Pink City real estate market provides everything a good property investment requires for great future returns on investments. Thus, Jaipur proves itself to be a great location for prospective investments. With this increased attention of property investors towards Jaipur, there is also an increased demand for properties for investments to suffice the increased demand.
Manglam Anantara is a beautifully developed villa project on Ajmer Road that offers 4 BHK luxury villas in Jaipur perfect in all aspects for investment.
If you are not yet convinced, here are some significant reasons why real estate investment in Jaipur is a win-win.
Smart City Mission
Jaipur is one of the few proposed smart cities in Rajasthan. The government is taking steps to turn Jaipur into a smart city. Area-based goals have been defined in varied sectors like tourism, heritage, intelligent mobility, sustainable civic infrastructure, and smart solid waste management.
Connectivity
Jaipur is up for comprehensive development. It has one of the most intricate and well-defined networks of rapid transit services through buses and metros. The villas in Jaipur are located in a location that serves excellent connectivity to nearby areas through a good network of transportation facilities.
Growth of Medical Facilities
Medical facilities are an integral part of living in an area. The presence of medical facilities also impacts the value of properties in the area. The 4 BHK luxury villas on Ajmer Road are located in the zenith of major facilities like multispeciality hospitals and care centres placing residents at convenience.
Housing Market
Jaipur is rapidly developing and thus the housing market in Jaipur. Continued infrastructural development, low cost of productivity, attractive rentals, and significant ROI makes Jaipur perfect for property investment. Furthermore, the demand for housing projects that scale the living standards of people is on the rise. This makes the villas on Ajmer Road the perfect form of investment.
Jaipur's real estate market is witnessing a massive attraction of property investors. To keep up with the demand, Manglam Group has come up with multiple residential and commercial projects. One such project is the Manglam Anantara which offers 4 BHK luxury villas on Ajmer Road perfect for investment.