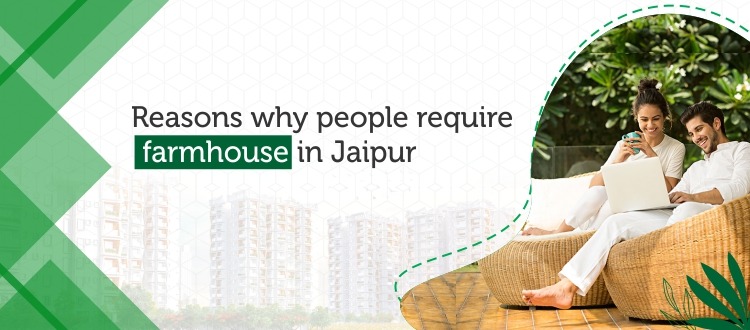 Reasons why people require farmhouse in Jaipur
The real estate market is booming like never before, and so are the opportunities. Interestingly, things haven't changed even during the tough time of the pandemic. Astute people in business know that it is the best time to invest in farmland and build a farmhouse. They're clients who are looking forward to the farmhouse for rent in Jaipur for various ceremonies, making it close-knit following the guidelines.
There's an exponential growth in recent years. A farmhouse let you enjoy all the things that you cannot do in a public area. There is no restriction among your people, and the place is most of the time secluded from the main city area, near some village. There is a sort of wilderness and calm during these farm places.
If you are into the real estate sector, then buying farmland and constructing a building there can be a profitable business. Interestingly, clients requiring a farmhouse for rent in Jaipur or someone wanting to rent a farmhouse in Jaipur can draw benefits.
Depending on the requirement, a farmhouse may have different room capacity, from 1bhk to 2bhk, 3bhk and much more. Also, the rent of a farmhouse may vary in different circumstances. If you want to rent a fully furnished and five star kind of farmhouse, the owner would charge a premium amount and rightly so, because the more the facility, the higher the charges. The location also matters in it.
If the land of the farmhouse is near your place or the city, then you may have to shell more money than anticipated. Also, as per luxuries, the rates keep on building up. So, if you are someone looking to rent a property, these things may fall in your favour.
As a landowner, you need to understand that it is not easy to grab land for the purpose of building a farmhouse. A contractor or a builder has to go through various segments and formalities to get a piece of land for constructing a dream farmhouse. Thus, the rent depends on the complexities of the construction as well.
So, if you need a farmhouse for rent in Jaipur, then these significant thoughts must be there in your mind.
Reasons why people require farmhouse for rent in Jaipur
In India, especially in Jaipur, the city known for its heritage and culture has several ceremonies and occasion. People want to celebrate and enjoy them as per their capacities. Sometimes, the entire community is involved in the celebration. Thus, it may require a bigger piece of land as a farmhouse for rent in Jaipur.
However, when the ceremony or occasion is a cosy one, involving only friends and relatives, then a small place would also do.
Notably, in the fast running lifestyle, people want to relax and keep most of the things private where there's no indulgence of extra forces. In that sense, a farmhouse is a great option for them to celebrate several affairs.
Why do people need a farmhouse?
People require a farmhouse for rent in Jaipur for the following reasons:-
Marriage celebrations
Birthday celebrations
Corporate and company parties
Kitty Party
Bachelorette party
Wedding receptions and stay
Pre-wedding celebrations
Post wedding celebrations
Anniversary celebrations
Sangeet ceremony
Religious functions
Class get together
Friends get together
Bhajan Sandhya
Naming ceremony
And there are several other cultural and fancy ceremonies that require interrupted fun. In that case, renting a farmhouse is the best decision you can initiate. Also, when you book a marriage garden, the charges are higher and also, you cannot express music due to several restrictions. However, in a farmhouse, these things do not apply.