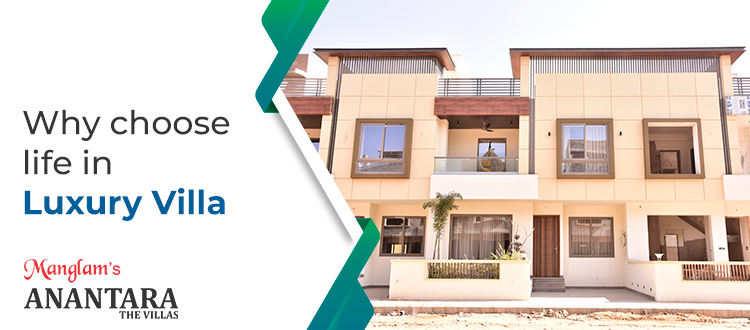 Why choose life in Luxury Villa
When deciding where to live, most of us want to settle into a spot that is uniquely ours and provides us with a sense of belonging. It's comfortable and welcoming, and we can see ourselves living there with our loved ones. One's vision of the perfect house will be varied depending on the person. We can all agree that the house, regardless of its geographical preferences or preferred architectural style, must be of high quality. Success in the real estate industry depends on the developers meeting the needs of their customers while maintaining their standards and providing a range of housing options. Let's have a look at what it is like to live in the 4 BHK Biggest Luxury villas in Jaipur.
Large and airy
To live comfortably, a house has to be well-ventilated, large, and open. These are important for a full and satisfying existence. Wouldn't you rather have a house that is naturally bright and airy, with plenty of space to stretch out and breathe? Besides the obvious benefits of clean air and a clear head to the body and mind, proper ventilation is essential for preventing mold and mildew growth and preventing structural damage from excess moisture. It prevents the growth of mold on the walls and furnishings.
Comfortable and Practical Layout: Ergonomic
Ideally, the layout would account for all necessary services and make efficient use of the available area. You may feel uneasy if the kitchen counter was even an inch higher or lower than you're used to. 4 BHK luxury villas on Ajmer Road have efficient layouts that minimise wasted wall space. This is vital if you are also hiring an interior designer to work on the building.
Consistently superior materials
Even if most people don't know much about this, it's crucial to learn as much as possible about the quality of building supplies. This is an important consideration whether you're constructing a house or investing in high-end villas in Jaipur. Make that the contractor or builder is using high-quality materials. At the construction site, we do further quality control inspections by the IS regulations.
Wall to Wall
The recommended ceiling height for a residence is 10-12 feet. False ceilings are a popular choice among homebuyers and sellers. The designers will need to shave off at least 1.5 to 2 feet of wall height to make room for the fake ceiling panels. Confining the space by lowering the ceiling makes it seem overcrowded. An area with a higher ceiling will give the impression of greater square footage than it has. Attic and loft space may be used for storage if the ceiling height is between 10 and 11 feet. It's also a great choice for chandeliers and other pendant lighting.
Extra-Large Kitchens
The kitchen area is intentionally constructed to provide plenty of counter space and cabinetry. It's important to have enough cabinets and drawers in the kitchen for storing all of the necessary cooking equipment. Storage for dry goods is often needed since many people purchase them in large quantities. In addition, the stove counter should house the daily necessities.
At Manglam Anantara, we think forward to ensuring that each of our developments provides the home buyers with their perfect home. Those looking for 4 BHK luxury villas in Jaipur may find nothing better than the ones we've designed. At our Luxury Villas, we adhere to the aforementioned rules and regulations.