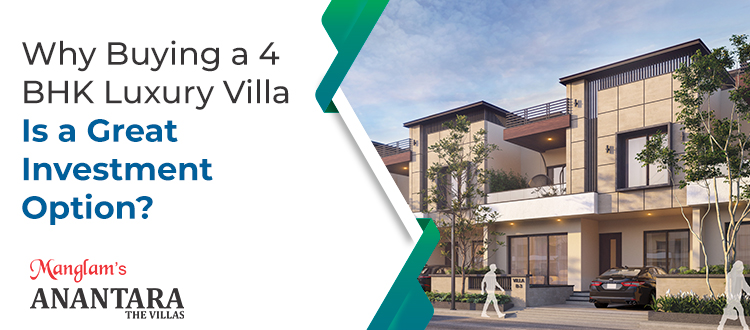 Why Buying a 4 BHK Luxury Villa Is a Great Investment Option?
Villa life is supposed to offer the luxury one always desires. It has continued to be a sign of class in society. This is the reason why real estate buyers are more inclined towards investing in luxury villas in Jaipur. People have started realizing that villas are a better form of investment as they offer great investment returns along with better security features.
Advantages of Investing In a Villa
Among the multiple options of properties available in the market, villas tend to be the best option. Some of the reasons why villas on Ajmer Road are best suited for your investment are mentioned below.
Taxation and Financial Benefits
With a lower budget, it is better to invest in a villa if you are up for a home loan because loans are easier to avail in the case of villas. Unlike an apartment, you also become the owner of the land when you buy a villa.
Longer Life
Villas have a longer life as they have a sturdy construction and have a better option of maintenance and upkeep according to your necessities. The 4 BHK luxury villas on Ajmer Road are thoughtfully developed and designed, rendering a strong structure that withstands any kind of natural calamities and disasters.
High Appreciation Value
The one best thing about investing in villas on Ajmer Road is that the value of the villas is continuously appreciated because of the continuously increasing price of the land and better self-life.
Opportunity to Lead a Holistic Life
The 4 BHK luxury villas in Jaipur by Manglam Anantara are thoughtfully located at a convenient distance from the main city to foster a better life for residents while allowing them to enjoy a serene life. One also earns an opportunity to explore and lead a holistic life surrounded by lush greens and a peaceful environment.
High Security
Unlike in the past, modern villas are developed keeping security the top concern. Thus they foster a safe and secure environment for the residents allowing them to indulge in outdoor activities without any concern or fears along with providing a safe neighbourhood for children and adults to enjoy.
The villas in Jaipur have proved themselves to be a great investment option. Thus, if you are planning to invest in a beautiful villa in a good location, Manglam Anantara is perfect for you.