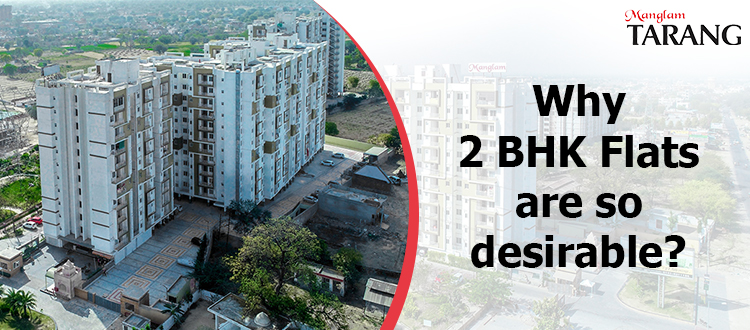 Why are 2 BHK Flats so Desirable?
Apartment hunters in Jaipur will have their pick of the litter. Apartment buildings may be found at a variety of heights. Large apartment communities coexist with smaller, more intimate neighbourhood. Then there's the question of where you put them. However, before we can get into all that, we need to decide what sort of unit we're searching for, i.e. how many rooms are necessary for your family's comfort. In this article, we will discuss why 2 BHK apartments in Jaipur are the best option for homebuyers.
Stocked and Ready
Two-bedroom, one-bathroom houses are consistently available. Two-bedroom, two-bathroom (BHK) units make up the bulk of most developers' inventory, whereas one-bedroom, three-bedroom (BHK), and larger units are either uncommon or need a longer wait for completion. 2 BHK apartments in Jaipur are easily available at Manglam Tarang, and they can be found for any price range.
Value Retention Is High
The resale value of Flats in Mansarovar is high. The city's property values are on the rise, so even if you decide to sell, you'll still come out ahead. Your only responsibility is to keep the unit in excellent shape. It's a safe bet that you'll get a healthy return on your money if you buy apartments in a desirable neighbourhood.
Economical
Two-bedroom, one-and-a-half-bathroom apartments are often priced within reach of first-time and frequent property purchasers both. When compared to 3 BHK and 4 BHK flats in other cities, 2 BHK apartments in Jaipur are more cost-effective. You may as well invest in a neighbourhood that boasts better facilities so everyone in your family can enjoy a lifestyle of luxury. Many buyers choose one-bedroom apartments because they believe they are the most cost-effective option; however, many builders now provide two-bedroom apartments at ideal prices, and these flats in Jaipur are much more practical for most families.
A wiser expenditure
Houses with two bedrooms and two bathrooms are always in higher demand from renters. They also bring in a rent roll that may easily be covered by your income. You may make a steady stream of money via leasing or renting the Flats in Mansarovar if you have no intention of selling them. More people are interested in purchasing these houses. So, individuals who are looking to purchase a property as an investment rather than a primary residence will find this apartment to be the best option.
Documentation
Comparatively speaking, the expenditures associated with documenting 2 BHK apartments in Jaipur are far cheaper than those of a 3 BHK or 4 BHK home. This is due to the fact that the paperwork fees are also proportional to the property's worth. As a result of the decreased need for paperwork, you may purchase a larger property at a lower overall cost.
Having read this, you should definitely visit the 2 BHK apartments in Jaipur at Manglam Tarang, where you can find several advantages.