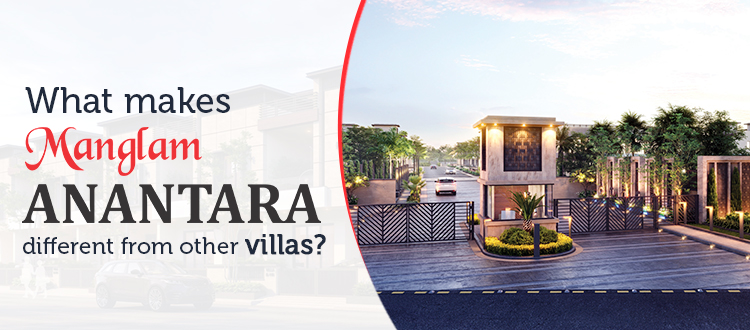 What makes ManglamAnantara different from other villas?
Manglam Anantara
Manglam Anantara is a synonym of Luxury. Properties are appealing and aesthetic in terms of design, ambiance, and location. The context of a modern villa has changed and now it refers to quality, craftsmanship, and a more luxurious lifestyle more than just appearance.
Home is a reflection of your personality but villa signifies your persona, aura, and status symbol. The villas at Manglam Anantara showcase a luxurious lifestyle with elegance and comfort. People want a property that is peaceful, and rich in green environment. 4 BHK Villa at Manglam Anantara fulfills your requirements.
The villa property has been provided with utmost comfort and luxury. Moreover, the environment, natural light, peace, and sophistication in design make Manglam Anantara different from other properties.
Following are some points that make Villas at Manglam Anantara unique:
Location
Location is a prime factor for purchasing a villa. Manglam Anantara is located at Ajmer Road opposite Pink Pearl and has close vicinity to Mahindra SEZ. It is near to every important location from schools, colleges to hospitals. Moreover, villas by Manglam Anantara are quite peaceful with less pollution and are best for a harmonious life.
Design & layout
These villas have an interesting and appealing landscape and view that will steal your heart. The designs are luxurious with a beautiful surrounding garden. Villas are designed with Vastu so that people purchase it without any complaint and issue. As villas are spacious and are thoughtfully planned, you can get ample natural light with fresh air due to excellent cross ventilation.The villas are fashioned on the principles of ancient "ShilpaShastra" with modern Balinese architecture to create a royal experience.
Other amenities
When you are purchasing the Villas at ManglamAnantara, you will get multiple amenities. A clubhouse, garden, badminton court, temple, meditation center, senior citizen sitting area, and many other. Yes, you will get all of these with "One Deal"!
Manglam Anantara Villas are spacious and big. We are sure you will get a royal experience to live and you will be mesmerized with the luxury villa segment.