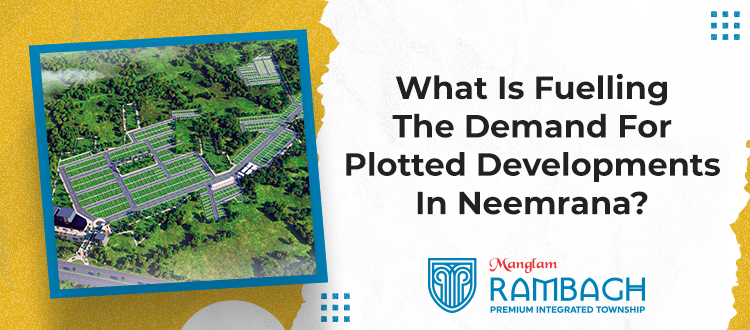 What Is Fuelling The Demand For Plotted Developments In Neemrana?
In recent times, plotted developments have gained immense traction and have emerged to be the top choice among property buyers. For instance, Manglam Group launched their plotted development project, Manglam Rambagh in the industrial town Neemrana. The project has been an eye candy among property investors. It offers residential and commercial plots in Neemrana that perfectly blend in to offer a lifestyle advancement. Neemrana is one of the rapidly developing industrial towns in Rajasthan that shows immense potential for high investment returns with accelerated growth.
Many factors have led to this increased popularity of plotted development in India. Some of the significant factors that have fueled the demand for plots for sale in Neemrana are mentioned below.
Low Density:
Plotted developments like Manglam Rambagh usually have a low density of people allowing better control over the resources like water and electricity. It also allows more freedom while using amenities like a swimming pool, playroom, gymnasium, etc. Plotted developments offer a life without any hassle with better control over how you want to be living.
Flexibility In Construction:
The main reason behind such an immense shift of home buyers towards plotted development is the fact that one gains the independence of building the home of their dreams as per their taste. One can express their style as well as individuality without any restriction and live life as per themselves.
Future Expansion:
Apart from building your home as per your wish, plots in Neemrana also offer you the freedom to modify your home planning even in the future as per your wishes and needs fostering quality living experiences for you. One can add floors and rooms to their existing house or make any changes they want without having to ask for authorization.
Manglam Rambagh is one of the beautiful plotted developments that offers plots for sale in Neemrana that are well equipped with high-end amenities making Rambagh a perfect choice for property buyers looking to invest in a property in Neemrana that proves to be the best investment for their lifestyle.