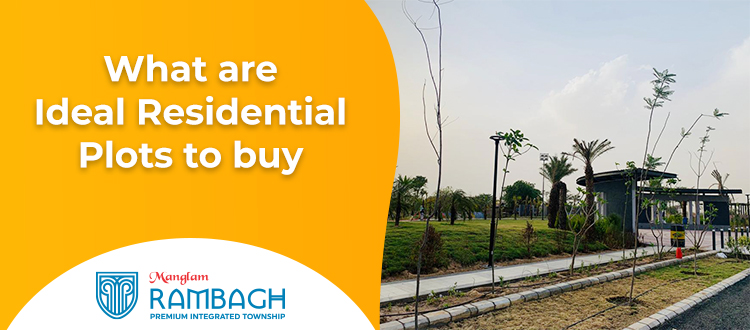 What are Ideal Residential Plots to buy
What are Ideal Residential Plots to buy
Buyers are quite picky about the plot of property for sale in Neemrana they purchase, whether it's for financial purposes or actual use. Many of us undoubtedly already have a good idea of which kinds of lots are ideal for housing development and investment. However, there are some individuals who, although being serious purchasers in the market for the plots for sale in Neemrana on which to construct a house, fail to take into account the aspects that reduce the land's value despite its aesthetic appeal. Let's analyze the elements that drive up the cost of and long-term profit potential of residential property parcels.
Proximity to a Bustling Business District
Buying a home that is immediately across the street from a high-traffic business district is a terrible idea. Since it is more convenient and cost-effective to just live next to a supermarket or other kind of business establishment, these areas tend to command higher prices for surrounding properties.
Parcels with Outdoor Space
Views of gardens from a property for sale in Neemrana are more desirable because of the attractive scenery in the foreground and the fact that there will never be any buildings in the way. Garden plots are often priced 10-15% more in newer residential developments that have not yet reached the secondary market. Having a lovely green space immediately in front of the home is worth a lot, despite the fact that some people believe that the property in front of the park would have more traffic than usual traffic and automobiles.
Conflicts over Tight Spots
It's not uncommon for residential property near a street corner to be larger than the average lot size in the neighbourhood. Property for sale in Neemrana on corners can have more than one door. Prices for corner lots in private home developments are typically 10% more than those for interior lots. Although there are several reasons why investors choose corner lots, prospective homeowners should be aware that living in such a location may compromise their sense of security and privacy.
Property along the Major Highway
Regardless of whether you're in a primary or secondary market, plots of property along the major thoroughfare or other prominent thoroughfares will always command a higher price. Typically, a 10 percent pricing gap exists between builders and projects. Wide highways and major thoroughfares allow for more temporary parking outside of the house and facilitate vehicle manoeuvrability.
The plots for sale in Neemrana by Manglam Rambagh offer all the above-mentioned facilities at a very affordable range of prices. Choose the best plot and develop your residential property in Neemrana.