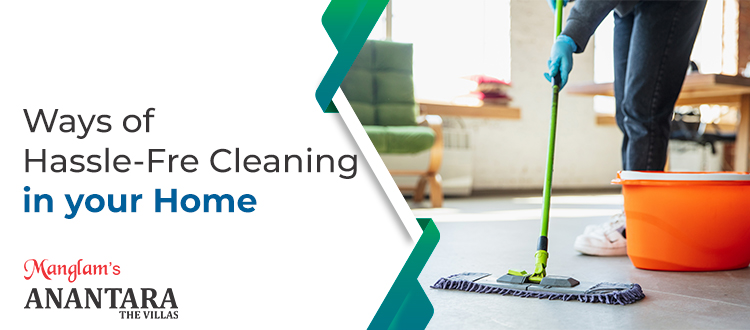 Ways of Hassle-Free Cleaning in your Home
Cleaning is a laborious and draining chore for the vast majority of the world's population, especially in the current day. Sometimes you may see the dust building up but have no time to clean it. You must be dragging yourself through this tedious task because you have no drive to accomplish it.
Keeping up with regular housework and cleaning may be a pain, but it doesn't have to consume too much of your time if you use a few simple tricks. You may reduce the amount of time you spend scrubbing tiles or dusting shelves with the correct equipment, some forethought, and enthusiasm.
Here are some time- and energy-saving cleaning tricks that will keep your 4 BHK Luxury villas in Jaipur looking pristine all the time. Put on some protective gear and come with us to find out what we're talking about.
Doing one load of laundry every day
It is recommended that you wash one load of clothes per morning. Keeping an empty laundry basket is a good habit to get into since it means less stuff, less stress, and less labor piling up for the next day. The lack of exposure to dust and moisture in the laundry baskets will help extend the life of your garments and keep them smelling nice. Sheets and towels should be washed regularly.
Your Own DIY Multi-Purpose Cleaner
The kitchen's countertops, appliances, and gas burners are the dirtiest and most time-consuming to clean. To manufacture your own powerful but inexpensive cleaning solvent, follow this easy method.
All that's required is:
● 3 Tablespoons of Baking Soda
● In a measure of 2 cups, heat the water
This mixture will need to be worked on until the baking soda is fully dissolved in the water. Put it in a spray bottle and you'll be ready to go.
Spray this cleaning wherever it is needed and wipe it down with a sponge for spotless results.
To scrub, start at the top and work your way down, then clean from left to right
This method of cleaning is highly recommended and widely used. While cleaning a room or piece of furniture, always begin at the highest point and work your way down. For example, when cleaning the living room, begin with the ceiling fan and finish with the area rug and coffee table.
It's best to clean the whole room in one continuous motion rather than switching between different rooms.
You should line up the vacuum cleaners and clean the room.
Cleaning with a vacuum cleaner is easy, quick, and efficient if you do it in straight rows. Complete one row from front to back before moving on to the next. Using this technique, you can swiftly and cleanly cover the whole room. At least twice each week, vacuum the living areas of your house where the most people congregate. This will prevent dust from building up and shorten the time spent cleaning.