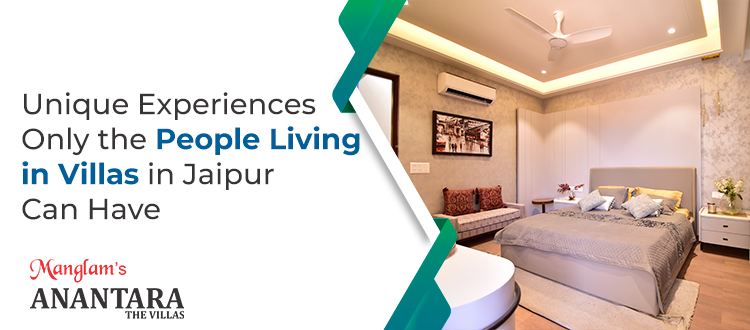 Unique Experiences Only the People Living in Villas in Jaipur Can Have
For people living in cities, some of the factors play an important role while selecting
their dream home. With constricted living spaces and crowded neighbourhoods in
cities, people are more likely to drift towards gated townships where they can enjoy
the freedom. One such beautiful property, the 4 BHK luxurious villas in Jaipur by
Manglam Anantara is perfectly integrated with high end amenities, great living
spaces, and safe neighbourhood to bring to you a perfect abode. A home where you
can enjoy a comfortable and blissful time with your family without compromising on
anything.
The villas in Jaipur are way beyond the trends of time with contemporary
architecture and high end safety features integrated with enthralling amenities that
offers great residency experience. There are multiple reasons how villas offers
experiences that none other property can offers and they are:
1. Ample Spaces: In cities like Jaipur, there are mostly crowded living spaces
that lead to low quality of living. In such a case, villas on Ajmer Road by
Manglam Anantara comes as an absolute saviour with biggest size villas that
enhances the residency experiences.
2. Privacy Redefined: Privacy is supposedly the most luxurious aspect of them
all in this era. Villas are perfect for those who love their private spaces without
any disturbances of the neighbours enjoying their own space.
3. No space Crunch: The one big problem in living in apartments and small
houses is the constricted spaces we get with a very limited space to keep
things and holdings. This is not a problem when living in villas, especially the
grand and spacious villas by Manglam Anantara.
4. Comfortable Neighbourhood: With high end safety and a good take on
privacy, the 4 BHK luxury villas in Jaipur offers a comfortable, safe, and a
beautiful neighbourhood where everyone can enjoy and spend good time
without any fear or discomfort.
5. Enjoy Gardening: With your private villa, you also get plenty of space to do
some gardening. If you are a lover of plants, there is no perfect home for you
other than spacious villas where you can do as much gardening as you like.
6. Perfect Place for Kids: With great amenities and sports facilities, Manglam
Anantara offers a great space for development of your little ones. They will get
access to every facility that boosts their growth and development phase.
When you live in one of the beautiful villas on Ajmer Road by Manglam Anantara,
you get only the best. Yes! With high end amenities, great security features, as well
as an exceptionally beautiful and secure neighbourhood, you will enjoy a beautiful
time with your family.