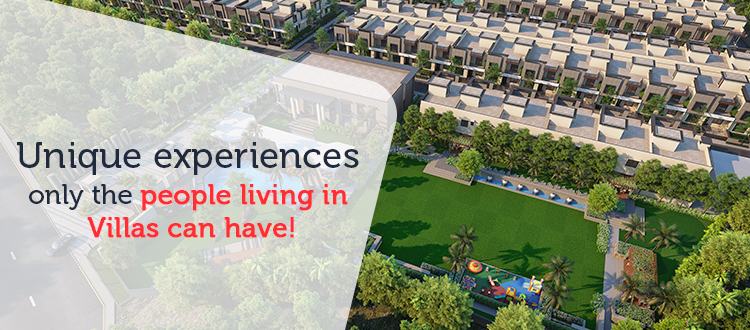 Unique experiences only the people living in Villas can have!
Spacious and big size Villa –
Many people are dreaming about it. Spacious living is the ultimate desire of people. Villa gives you the luxury experience& spacious living at your dream home. Manglam Anantara gives you a unique experience that can be felt by people in Villa!
Space :When you are living in a luxury villa, you will get a spacious place to live. There is no need to adjust andyou also don't need to worry about the space to put the things and invite people to stay. In modern living, people want separate rooms for their children, a study room, and a guest room.The 4 BHK villas in Jaipur Manglam Anantara are designed with ShilpaShastraand spacious living formula. You will have a duplex with a terrace to live a king life.
Privacy : It is the most prominent advantage to live in a Villa. You have your personal space and enjoy your freedom. You have your private balcony, terrace and other exterior amenities.
Neighborhood : Villas give you a luxurious lifestyle with a great neighborhood place. You will be met with like-minded people and people from similar walks of life. The people living in Villas are always found as social but maintain a personal privacy space with each other.
Pet Friendly : Villas are spacious and you can have a pet at your home. You are not required to take permission from society like in apartments. Your pets will get more outdoor space, an open terrace, and other space to hanging around.
Go eco-friendly : More and more people are realizing the importance of making their homes eco-friendlier. Having your villa will allow you to harvest rainwater, opt for solar energy, etc. It is a great opportunity to not only make your home more economic but also set an example of how you can use natural resources to their maximum.
Garden : One more thing that adds a luxury feature to your villa is the private garden. People living in the villa can have their own terrace garden for relaxing after a hard day. It also promotes green living so that people will get a natural and fresh environment. It is another great experience for the people living in the villa.
Luxury villas in Jaipur like Manglam Anantara will give an immense experience to live. You will get more space to do things like the home decoration, solar energy plants, rainwater harvesting systems, and many more things. Not only this you can do anything you want in your personal space.