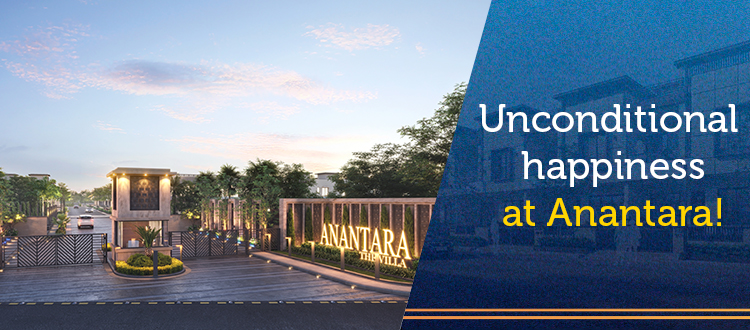 Unconditional happiness at Anantara!
Most people think that happiness lies with happy moments only.
Many elements in the environment make you happy and bring peace to your life. People seek lovely moments with their happiness. These moments can be derived from the best place. Manglam Anantara is a luxury 4 BHK villa that brings unconditional happiness to your life.
Following are some of the reasons that bring happiness and peace to your life:
Anantara gives you a luxurious life and makes a comfortable living. The villas are big and define as the epitome of luxury. The amenities in these villas are excellent and bring calmness beyond measures. From comfort to simplicity, these aesthetic villas deliver you everything.
A 1.5-acre of land with distinct areas for kids, badminton, and senior citizen. The evening and morning at these villas are surrounded by nature that makes your life better. A natural living with the lush green environment as well as sunshine enters your home. Nature makes your life beautiful in the purest form and gets life with utmost greenery and less pollution.
A developed amenities that make your life fun. Closest to nature, stress-free life, and many more things are possible in these luxury villas. Badminton court, senior citizen zone, temple, meditation center, etc. the villas have everything that makes life easier and the clubhouse is a dome of activities.
Safety and secure living: what else makes you happy. A gated community with camera surveillance keeps your family safe and secure. A feeling of safety makes you happy and gives a unique experience of living. Luxury means endless laugh, exploring new and aesthetic design, and active living.
Manglam Anantara is a luxury 4 BHK Villa that fulfills all your living needs. A perfect place to get a luxury lifestyle under one roof. This place delivers happiness in the most refined form. Get a perfect opportunity to live a meaningful life amidst nature.