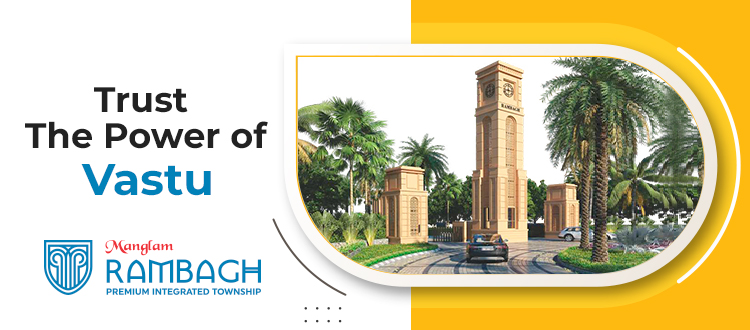 Vastu Shastra is the science of architecture.
This mainly originated in India and holds a special value and significance in our everyday lives. Vastu Shastra is a guideline for designing and building homes to keep negative energies at bay. It is an entire discipline in itself. It doesn't matter if one believes in Vastu or not, It is an undeniable power that greatly influences one's life in many ways. The right application of Vastu Shastra can change lives for the better. It brings happiness, good health, prosperity, and peace when applied in the right way.
Manglam Rambagh offers residential property in Neemrana where you can craft your Vastu complied dream home, equipped with world-class amenities like a luxurious clubhouse, function hall, steam sauna, modern gymnasium, mini theater, and others to add luxury and comfort to your lifestyle. Rambagh is an integrated luxury township in Neemrana that strives to provide its residents with all the facilities and luxuries that are developed and designed concerning Vastu compliance.
The benefits of Vastu Shastra
Vastu Shastra deals with maximizing the positivity of the place. Many people follow Vastu religiously and that itself is an explanation of the importance of Vastu Shastra. Let's discuss some of the benefits of the architectural form of science.
Brings together diverse forms of energy:
Mother nature has blessed us with different forms of energies like the sun, moon, wind, light, thermal, earth, electric, magnetic, and cosmic. Vastu Shastra works in a way to harmonize all these energies and obtain maximum benefits from all these sources in terms of harmony and fortune.
Brings happiness:
A Vastu non-complied home can create misery in residents' lives. It is important to have a residence without Vastu flaws to lead a life full of happiness with your family.
Brings wealth:
Sometimes, people feel that their fate is blocked when it comes to money, this can be fixed by correcting the living spaces concerning Vastu Shastra.
Brings strength to relationships and boost career growth:
Some lifestyle modifications done according to Vastu can make your relationships stronger. Also, Vastu complied homes also enable students to study better and grow in their careers.
How effective is Vastu Shastra
To be honest, Vastu is very effective and it has proven to have changed lives over the years. Vastu gives powers to people to make things work in their way to a great extent. This ensures the continuous flow of positive energies in the living space.
Manglam Rambagh located in the lush green surrounding is an 80 acres township in Neemrana that offers residential plots along with commercial plots in Neemrana. This commercial property in Neemrana is planned with detailed precision to meet everyday conveniences and provide a luxury lifestyle. Buy property for sale in Neemrana and build a beautiful home for you and your family where you can lead a healthy and happy life.