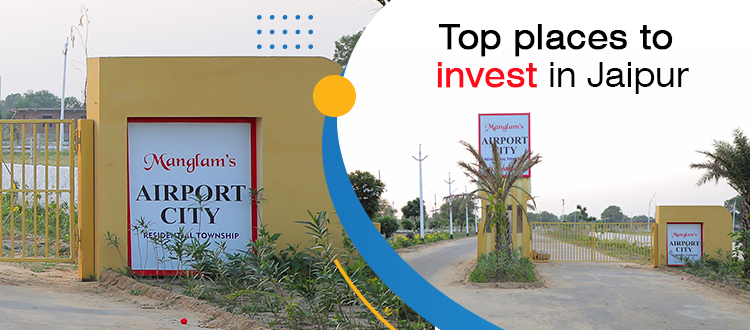 Top places to invest in Jaipur
Jaipur is a preference for many people to invest especially in the land.
Jaipur is a sacred land and constitutes a mixture of contemporary and traditions of historical India. Jaipur is financially viable and appealing for people froman investment perspective. It hasan ethically wealthy culture and is a developed city. Plots in Jaipur arethe preferred location for people to invest and that is the reason, they are moving back to Jaipur.
Jaipur was the first planned city thatconstitutes special features like a smart city, old-world charm, and modern architecture. Many colonies in Jaipur are developing whereas on the other hand, maximum locations are easy to access with transportation facilities and modern civic amenities. Manglam Airport City is located near Padampura Jain Temple and just 2 KM away from Tonk Road. The major areas to invest in Jaipur are as follows:
Tonk Road :

One of the most developed areas is Tonk Road and it has also earned a tag of one of the posh areas of the city. It's just 2 km away from Manglam Airport City as well as connectsyou with various prime locations of Jaipur. Moreover, famous hospitals, schools, and colleges are located in the nearby areas.

Mahindra SEZ:

Investment in Mahindra SEZ is always a good option. It's a special economic zone developed by the Mahindra and the state of Rajasthan. Many companies are located in Mahindra SEZ that connects it with the main city.

Ajmer Road:

Ajmer Road is the area that will undergo rapid expansion. It's a six-lane expressway and witnesses the Industrial Corridor between Delhi – Mumbai. Ajmer Road is also the best option from investment point of view as a number of real estate projects are ongoing by different real estate groups.
Manglam Airport City is situated near Shivdaspura, Padampura Road, Tonk Road, Jaipur, and convenient from every prime location. From Tonk Roadit's just 2 km away&it is near to Ring Road. Manglam Airport City project is a gated community that not only provides you township facility but ensures complete safety and security.