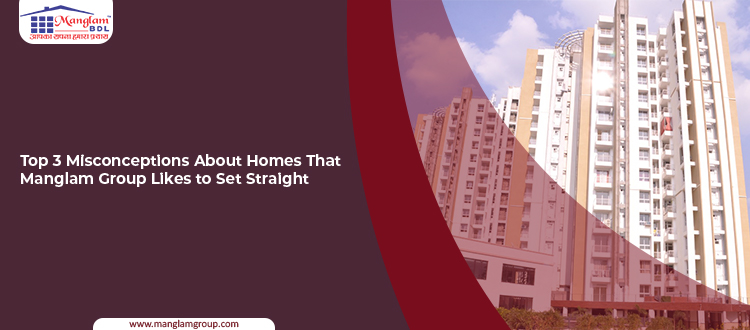 Top 3 Misconceptions About Homes That Manglam Group Likes to Set Straight
When you think of owning a house, it turns to be the most meaningful and time-taking process of your life. This is once in a lifetime purchase for which you plan big so that you may get the house of your dreams. Buying such a precious attribute should go flawlessly. But, no priceless thing comes without misconceptions. The same implements to home-buying operations too. There are several myths associated with the same. And, being one of the most trusted builders of India, Manglam Groups stands out to clarify these misconceptions and avail people with the very idea of buying a perfect home.
Let's keep track of these misconceptions:
MYTH 1: Big Down Payment for Buying a House
This is the biggest myth that most people believe in without researching the market properly. After knowing the property price, you can opt for a home loan of 80 to 90% of the total spend. In turn, you need to pay approx. 10 to 20% amount as a down payment. But with the advancements coming up into all the possible industries, the banking terms have also been revised.
If you lack the funds, then you don't need to skip the thought of buying a new home; rather, you can submit another property owned by you, be it a plot, land, or home. It will help in raising the needed down-payment funds.
Also, you can apply for a personal loan to collect an amount equal to the down payment. While making this decision, just ensure to be clearing off both the debts opted by you, i.e., your home loan, as well as, personal loan.
One more way to do so by using your credit card. What you can do is to convert the amount to be spent on the credit card into an EMI. You can even borrow funds through your credibility against the insurance policies you own. But, while doing the same, you can witness paying higher interest rates and availing a shorter repayment period.
MYTH 2: Relying on RERA without Researching
Many people believe in RERA (the Real Estate Regulation Act) a lot. The builders, in association with RERA, can take advantage over others. But this theory goes wrong for homebuyers because there are many other things to consider, such as real estate sales and protected rights.
Most of the homebuyers assume that almost all the properties come under RERA's protection>. Hut actually RERA applies to the projects larger than 500 sq. meter and including more than or equal to eight housing units. Also, to remain RERA compliant, a builder needs to be registered with the RERA board.
Before you go ahead to make the booking, ensure to check whether the builder is registered with the state's RERA board or not, and then only confirm the booking.
MYTH 3: Homes Under Construction or Semi-Constructed Turns to Be Cheaper Than Ready-to-Move Projects
It is one amongst the biggest myths that buyers often take into consideration. The homes under construction seem to be cheaper than the ones already constructed or completed. But it isn't the actual fact. Sometimes, the builders offer great deals on the ready-to-move properties.
One more fact to consider here is that the homes under construction are not entirely safe. There's always a risk in choosing such projects. Also, you are never sure of the final output of the semi-constructed property. It may turn out to be disappointing in the end, so be cautious while choosing one for yourself.
With ready-to-move properties, you know exactly what you are getting, and also ensure about the value you're receiving. Thus, it always proves to be a more affordable and wise choice for buyers to opt for.
In a Nutshell
No one can define all the myths that remain associated with the thought of buying a new home. But the above-mentioned are the top 3 myths you may or may not come across with. So, ensure all the facts before coming to a decision.
Safe Buying & Happy Homes to You!!