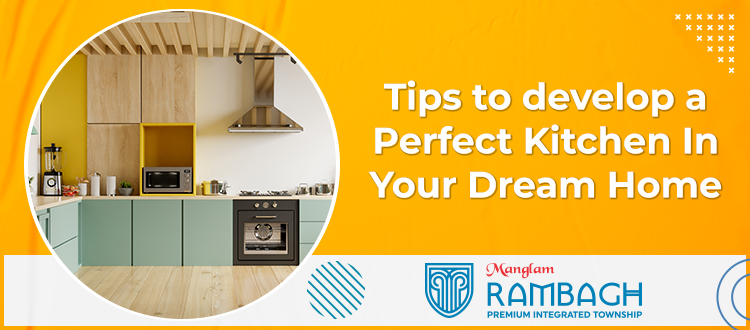 Tips to develop a Perfect Kitchen In Your Dream Home
The kitchen is the heart of the home, the place where meals are cooked and it is expected that such a place should be comforting, a place that renders a pleasant space and is efficient and convenient to work in. Careful thought is required to plan this significant space to make it both pretty and practical. There are numerous details to regard when you are setting up a kitchen, which makes it eye-catchy. At the property in Neemrana, you can choose to create a kitchen aligning with your own aesthetic choice.
1. Follow the Golden Triangle Rule
For optimum efficiency, your cooking, cleaning, and storage areas should sit at three functional points, forming a perfect work triangle. This helps in the fluidity of movement between the hob, sink, and refrigerator and compartmentalizes activities. At plots in Neemrana, you are provided with the liberty to design the type of kitchen you want!
2. Assign Areas For Instruments
Assign areas such that you have all of your utensils near each other, all of the appliances next to each other, and all of the ingredients together. This allows you to be more organized. This also ensures easy access to the utensils and cooking ingredients you use most often.
3. Choosing Beautiful Drawers
The drawers you choose for your kitchen should always be in accordance with the trends. The modern kitchen drawers are easy to open and have a large space for keeping the containers. You can decorate them with your own choice of cutlery and transparent containers.
4. Light Up Well
A well-lit kitchen is important when working and moving around. It makes prepping and cooking safer, it shows up dirt so you can keep your work area clean, and makes the environment more pleasurable to work in. When picking out light fixtures, ensure that you choose ambient lights, task lights, and accent lights. Downlights are best for ambient lighting and to prevent glare and shadows and strip lighting is useful under cabinets to illuminate countertops.
5. Don't Forget the Ventilation
Cooking smells can get right into the fabric of a kitchen and permeate the entire home. Windows or an exhaust fan just do not cut it the way a chimney does, which works wonders in keeping your kitchen free of smoke, odors, and grime.
 6. Make It Your Own
Your kitchen should reflect your lifestyle and personality. Choose accents, textures, and lighting to match your personal design aesthetic, after all, the kitchen is where you will be spending a good amount of time, cooking for the family.
Manglam Rambagh is a beautifully integrated township in Neemrana that offers plots for sale in Neemrana, that are perfect for building your dream abode according to your taste and choices. You can build your kitchen according to your preference, designing as per your convenience and building with the right materials, all as per your budget and choices.