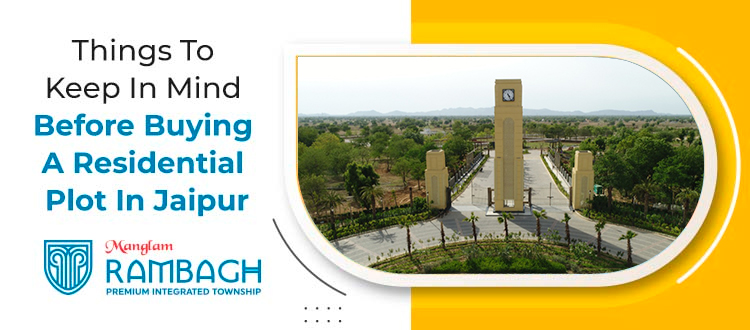 Things To Keep In Mind Before Buying A Residential Plot In Jaipur
Buying a home is a very important life decision.
Most people desire to buy land and build a home on it according to their taste and preference. This allows them to build their dream home from scratch and ensure that their home is built with the best quality materials and the quality is not compromised. If you are the same and wish to buy a plot in Jaipur, you can buy a residential plot in Jaipur in a gated community like Manglam Rambagh.
These are some factors you must keep in mind before buying a residential plot in Jaipur.
Location:
One of the most important factors to look for before buying a plot is the location. You must ensure that the plot is located near developing infrastructure that guarantees good investment returns in the future. Also, one must not get lured to low-priced plots in a faraway location with no scope of future growth.
Value Of The Plot:
Buying a property is a big decision and one must not make this decision in a haste. Even if you find a deal attractive, first compare the price, consult a real estate agent and make an informed decision. An impulsive judgment can make you miss out on better opportunities.
Area Of The Land:
In case you are looking for land to build your dream house on, make sure about the built-up area available. Check the topography of the land and make sure everything corresponds to your need for the house built-up. The 80 acres township in Neemrana provides multiple-sized plots in Neemrana that are the perfect spot for you to build your dream.
Builder Credibility:
It's better to be sure than sorry. Before buying a piece of land from a builder, make sure that the builder is genuine and credible. Cross-check about the builder's details and the land. Check for any legal litigations on the land.
Title Deed Verification:
Before buying land from a seller, cross-verify that the seller has ownership over the land, his details, and whether he has the full right to sell the land. It is important to verify the title deed of the land.
Approval By The Local Body:
Before buying the land, make sure that the residential plot has been approved by the local body and city development authority. Make sure that the land documents are approved. Manglam Rambagh offers JDA approved plots for sale in Neemrana in a luxury township with gated premises.
Manglam Rambagh is a luxury township with multiple-sized residential and commercial plots in Neemrana that offers ample parking spaces and high-end amenities for comfortable and luxurious living. Buy a property in Neemrana and build the home of your dreams.