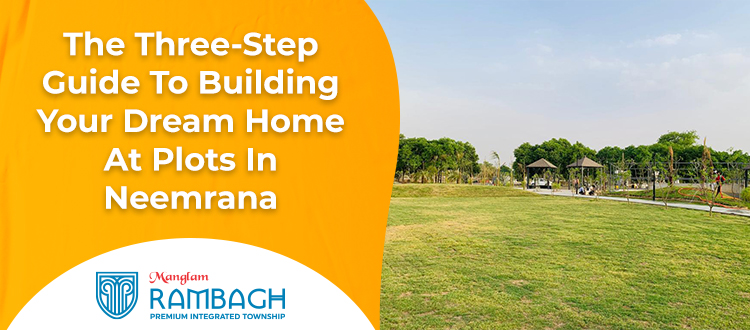 The Three-Step Guide To Building Your Dream Home At Plots In Neemrana
It all began with little caves and mud homes. Back in a time when
civilization was not yet evolved, homes were merely shelters.
However, as time passed, homes became more of a living standard
statement. People now see the home as a private retreat or a place that
is aesthetically pleasing where they can relax and rejuvenate. People
have many sentiments attached to their homes. A place one dream of
is a place we call a dream home.
So, while you figure out what you want from your dream home, let us
help you with the location. Manglam Rambagh is a beautifully
integrated plotted development that offers plots in Neemrana, a
perfect and peaceful place to give shape to your dream home.
So, here are a few aspects that need to be focused on while building
your dream home.
1. Location
Before investing in any property, you need to give good
thought to the location of your dream home. Where you
want your dream house greatly depends on your choices.
Do you want your home to be secluded from the
maddening crowd of the city? Do you want your home to be
in a place near the city? Or do you want your home to be in
a location where you can enjoy time around nature along
with being at a comfortable distance from the hustle and
bustle of the city? Deciding on all these factors helps you
zero down the location of your dream home better.
2. Associating With Qualified Professionals
We all know how daunting can be the task of giving shape
to your dream home. However, with the help of the right
individuals, the process can seem easier. After you have
imagined and taken note of everything you want in your
dream home, it's time for you to collaborate with
professionals like architects and interior designers to bring
your imagination to reality. These professionals not only
make the right designs but also take care of Vastu and
other factors involved. If you are planning to build your
dream abode in plots for sale in Neemrana, get in touch
with reputed architects and designers and provide them
with the proper briefing to get started with the
development of your dream home.
3. Delegation
Once your vision is clear, it's time to hire professionals and
delegate tasks. All the designing and floor plans are to be
handed to the personnel who are going to construct your
home. After you have decided on the no. of rooms along
with other details, hire a good contractor who can get the
construction work done.
After your home is constructed, it's time to get it painted, furnished,
and get done with all other installations.
If you are in search of any plots in Neemrana, Manglam Rambagh has
some of the best options for you, equipped with ample amenities and
features that add comfort to your dream home.