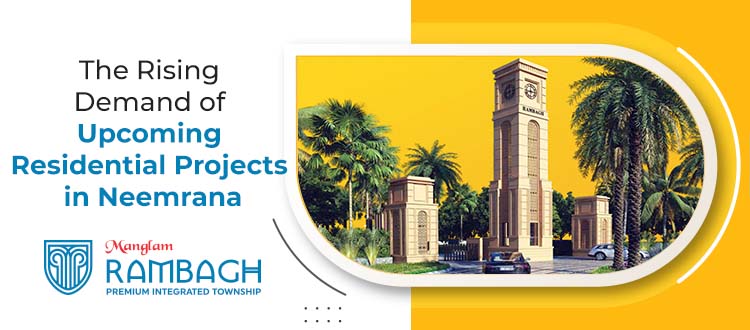 The Rising Demand of Upcoming Residential Projects in Neemrana
The Rising Demand of Upcoming Residential Projects in Neemrana is a buzzing spot for real-estate developments. In recent years, Neemrana has witnessed generous development in the residential and industrial sectors. The vibrant real-estate market of Neemrana has set a base for big companies and industries. The town is also emerging as a preferred tourism spot and is drawing a lot of attention from the Rajasthan Government. The government has embarked on several projects like the establishment of Global City and the Special Economic Zones and the proposed Kundli-Manesar-Palwal expressway which will intersect with NH 8 when completed. Major prominent developers like Manglam Group are offering residential and commercial plots in Neemrana in plotted townships like the Manglam Rambagh.
Growth Drivers For Neemrana
The Neemrana industrial market looks promising with the development of diverse infrastructures and extending connectivity with Delhi-NCR with the proposal of different transport linkages. The expanding transportation links, infrastructural and industrial developments have significantly drawn the interest of property buyers in Neemrana.
Transportation Developments:
The National Highway Authority of India (NHAI) has proposed the construction of 14 flyovers every 5 kilometres from IMT Manesar to Neemrana that would significantly reduce the travel time between Delhi and Neemrana. Neemrana is also a part of the Delhi-Mumbai Industrial Corridor (DMIC) and the Delhi-Mumbai freight corridor. This would improve its connectivity to important locations and soon Neemrana will be connected to Delhi through a high-speed train. A cargo airport is also proposed for the transportation of industrial goods.
Infrastructural Development:
A Global City is to be established in Shahjahanpur-Neemrana-Behror on 40,000 acres of land. This would provide accommodation to above one million people. Also, around 38 institutes have got authorized to open universities in Neemrana. This would draw students from nearby areas like Delhi, Jaipur, and Noida to move to Neemrana for their higher education. A lot of private builders have been sanctioned to develop SEZs in some areas of Neemrana. This would attract more and more possibilities for people in Neemrana. This is a good time for property buyers to invest in a property in Neemrana and buying a commercial property in Neemrana can be a profitable decision.
Industrial growth:
Neemrana has seen rapid growth in industrial infrastructures as RIICO is developing Neemrana Phase III as an industrial nucleus with industrial estates here extending 2000 acres. The government has also proposed the development of the Japanese Park and Korean Zone in Neemrana to promote foreign investment and commerce in the country. Many multinational indigenous and foreign companies and industries are set to their operations on the grounds of Neemrana.
Neemrana covers all the factors for a profitable investment. With the special attention from the state and national government, Neemrana is continuously developing into growth driven location. Buying a property for sale in Neemrana is the best investment decision for property buyers today with promising future returns. Manglam Rambagh is a township in Neemrana that offers residential and commercial plots in Neemrana, one of the most profitable and promising locations of Rajasthan.