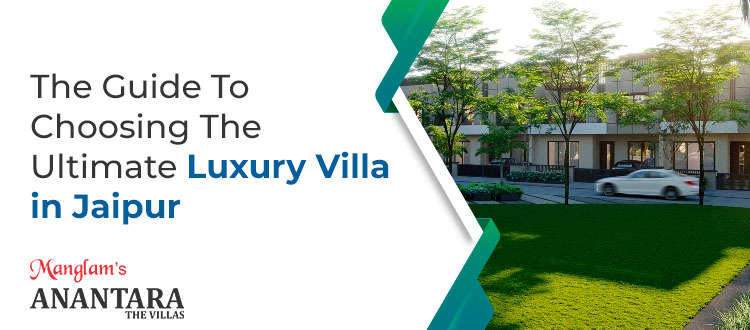 The Guide To Choosing The Ultimate Luxury Villa in Jaipur
There is so much more to look for than just luring amenities when picking a luxury villa in Jaipur for investing. It is important to check for the functionalities and features of the villa and make an informed decision. Buying a property is a big decision that involves an investment of time, intention, and most importantly your hard-earned money. So, before making any decision, it is important to consider the factors mentioned below to pick the ultimate luxury villa for yourself. Manglam Anantara offers 4 BHK luxury villas on Ajmer Road that are beautifully constructed to support your lavish life offering world-class amenities that can easily fill your life with indulgence.
Location, location, location
The main factor to look for before choosing a luxury villa is the location. Make sure the villa you are picking aligns with your preferred location. The villas on Ajmer Road are located in close proximity to the warmth of the city life along with providing you the serenity away from the hustle-bustle of the city.
Inhabiting the space
The structure, interior, and design of the villa are equally important. Before picking the villa in Jaipur, make a list of requirements like the number of rooms, bathrooms, and the space you need. This will help you pick a luxury villa that also serves your purpose and allows you and your family to live comfortably.
A room with a view
The luxury villa surrounded by lush greens and mesmerising vistas will be the perfect space for you to live a life of contentment. The villas in Jaipur at Manglam Anantara are surrounded by 1.5 acres of a private garden that offers a magnificent level of paranormal views with tranquillity to the residents.

The Luxury Amenities
Last but not the least, the amenities offered by the villas shapes your lifestyle. So, before selecting a luxury villa, check all the amenities you wish from your dream home. Furthermore, look for all the shared facilities and make sure you get what you are paying for. Manglam Anantara offers world-class amenities like a multipurpose hall, a swimming pool, gymnasium, sports facilities, and many more.
Manglam Anantara is a beautifully integrated villa project on Ajmer Road that offers 4 BHK luxury villas in Jaipur that offers you a lifestyle equipped with high-end amenities and facilities. If you are looking for a space where you can enjoy quality time with your loved ones along with relishing a comfortable life, the villas in Jaipur are perfectly fitting for you.