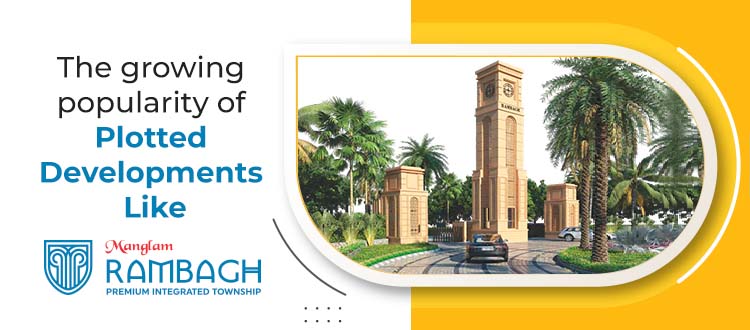 The growing popularity of Plotted Developments Like Manglam Rambagh
In contemporary India,
it's been observed that property buyers are more inclined towards buying lands in plotted developments like Manglam Rambagh. What might be the possible reason behind it? Plotted Developments are simply township projects that offer plots for sale for the development of villas, houses, or other housing infrastructures.
Manglam Rambagh, an integrated micro-city township in Neemrana, spread over 80 acres offers plots in Neemrana in multiple sizes and with flexible planning. Many people are turning towards investing in plotted developments like Manglam Rambagh, let's know the reason why.
Less Investment:
Most of the plotted developments are present in the suburbs, making them an excellent investment. Along with low property prices, they also offer larger areas in comparison to cities at affordable prices.
Higher Returns:
The main benefit of buying land in a plotted development is the higher returns it delivers. They mostly are located in suburbs with the scope of developments due to which land value is constantly appreciating. One can buy a property for sale in Neemrana and be assured of attractive returns in the future.
Layout and Design:
One of the key benefits of owning a plot is the freedom of designing your dream home according to your taste. You can build as many rooms as you want without any restrictions. This allows you to be more connected to your home.
Luxury Amenities:
Most of the luxury plotted townships like Manglam Rambagh offers a sprawling campus with high-end amenities like a swimming pool, clubhouses, children's play area, jogging tracks, and lush greens. These luxury amenities allow you to experience luxury living and indulge in recreational activities without traveling too far from your home.
Community Living:
One of the key features of plotted townships is that it allows you to develop a sense of belonging and relativity to the community you live in. Also, this ensures social well-being and allows residents to engage in social activities together. It is also very comforting to live in a surrounding with familiar faces that allows one to feel more secure and safe.
These were some of the reasons behind the rising popularity of plotted developments. Some of the beautifully integrated townships in Neemrana like the Manglam Rambagh offer residential and commercial plots in Neemrana. This property in Neemrana offers a higher living standard with the luxury of high-end amenities like a swimming pool, clubhouses, children's play area, jogging tracks, and lush greens. Buy a plot for sale in Neemrana and enjoy a life full of joy and contentment with your loved ones.