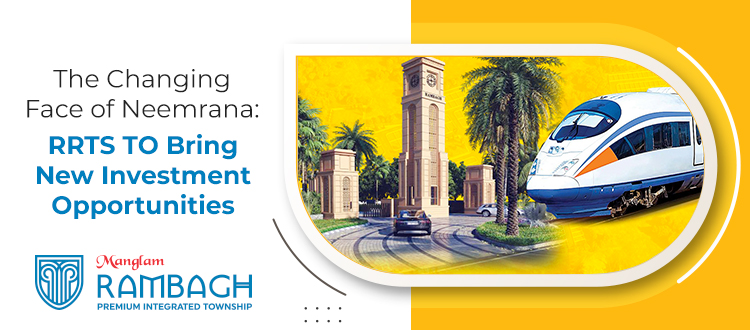 The Changing Face of Neemrana: RRTS TO Bring New Investment Opportunities
A rapid expansion is being seen in the NCR market.
Along with population growth, NCR is becoming a hub for industries and becoming a major investment attraction due to the proposal of Delhi–Alwar RRTS. Delhi–Alwar Regional Rapid Transit System (Delhi–Alwar RRTS) is a proposed 164 km long, semi-high speed rail corridor connecting Delhi, Gurugram, Rewari, Neemrana, and Alwar. This RRTS project will allow commuters to cover the distance between Delhi and Alwar in just 104 minutes. Being a part of NCR, Neemrana has also seen an increased attraction of property buyers towards itself. Neemrana is becoming a hotspot for investing. More and more property buyers are looking to invest in residential and commercial plots in Neemrana.
How would the proposed RRTS influence the lives of the people of Neemrana?
Increased Economic Activity:
NCR regions like Neemrana would see improved economic activity. This will be possible as the industries will be able to attract better talents, all thanks to better connectivity due to the RRTS corridor. Buying commercial plots in Neemrana would prove to be the best investment decision in this stage of development.
Improved Access To Job:
RRTS will allow employees to travel to their offices at long distances in lesser time. Also, this will make their commuting hassle-free.
Efficient Connectivity:
One of the key benefits is the excellent connectivity it serves. RRTS corridor will efficiently connect its route with existing metro stations and other means of public transportation providing the passengers with last-mile connectivity making their journey hassle-free and at ease.
Reduced Travel Time:
Once the entire line will be complete, commuters will be able to travel from Alwar to Delhi in just 2 hours. The RRTS will provide high-speed and high-frequency conveyance along the dedicated lines.
Reduced Pollution:
RRTS will greatly reduce the dependency of people on their private vehicles and allow them to travel greater distances in lesser time across cities of NCR and Delhi. Along with reducing traffic jams, this would greatly reduce pollution caused by vehicles. Locations like Neemrana are becoming a hotspot for property buyers and most home buyers are looking to buy property in Neemrana.
RRTS would prove very beneficial with increased connectivity and reduced time of commute. This would lead people from populated cities like Delhi and Noida to move to less populated and serene locations like Neemrana. This is a perfect time to invest in a property for sale in Neemrana.