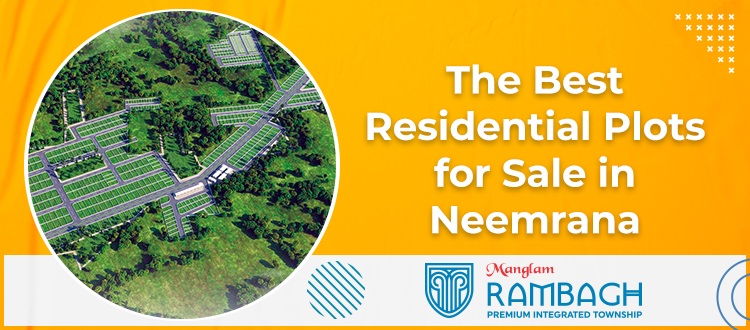 The Best Residential Plots for Sale in Neemrana
Neemrana, the city based on the main Jaipur Delhi Highway is one of the finest locations for your dream home. The city is home to some of the major establishments that fosters growth for the residents of the city. Many top software firms, companies, and startups are based in the city. Considering these developments, Neemrana is becoming a top choice among property investors.
One of the residency projects, Manglam Rambagh, located on the main Jaipur Delhi Highway offers multiple residential and commercial properties in Neemrana, perfect for investors looking for properties to invest in. 
Key Highlights of Neemrana
First-class Infrastructure
The first factor that makes plots for sale in Neemrana perfect for investment is the fact that it is home to some of the most promising infrastructures. Neemrana is the industrial capital of Rajasthan and falls under the 27 Smart Cities Of DMIC. Manglam Rambagh places you near the industrial areas like RIICO Circles and other industrial zones. 
Road Network and Expansion
The plots in Neemrana at Manglam Rambagh are located on the main Jaipur Delhi Highway serving excellent connectivity to major cities like Delhi, Gurugram, and Jaipur. Also, Neemrana falls under the proposed RRTS rail corridor, a 164 km long, semi-high speed rail corridor connecting Delhi, Gurugram, Rewari, Neemrana, and Alwar. This project will be a boon for residents living in these cities, making transit convenient for them in turn fostering great living standards. 
Housing Development
Manglam Rambagh is a luxury landmark in Neemrana that offers plots in Neemrana to craft your dream abode according to your dreams enveloped by opulence as well as nature. The township comes with broad internal roads for easy commuting and no parking-related issues.
All these factors prove that Neemrana is one of the best places to be in. 
Finding plots for sale in Neemrana that fit all your requirements and add luxury to your life is no more a difficult task. Manglam Rambagh is a beautifully integrated township in Neemrana that fosters high-end residency experiences while allowing the residents to craft their dream home according to their choices and desires.