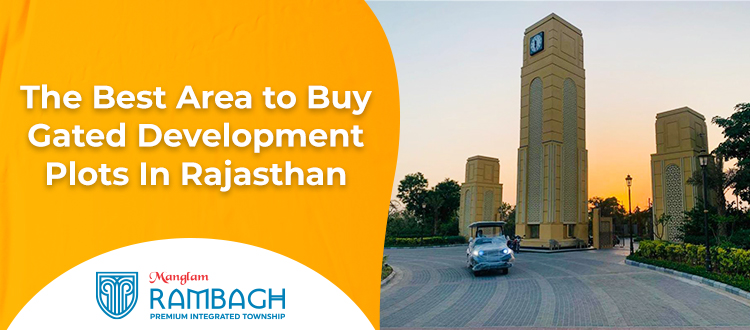 The Best Area to Buy Gated Development Plots In Rajasthan
Are you looking to invest in a gated community plot in Rajasthan? Well, we have got just the right idea for you. Neemrana, one of the most promising locations in Rajasthan, thriving as we can say, can be the perfect spot for you to invest your money in a very promising land. Neemrana is seeking worldwide attention by showcasing and establishing itself as the growth capital of Rajasthan. With great establishments and developments, Neemrana has established itself as the perfect location to invest in plots in Neemrana.
So, if you are planning to invest in a plot, you must be in search of a property that also offers great returns on your investment. One such property that will fulfil all your desires from your investment is right in our knowledge. Manglam Rambagh, a well-developed and beautifully integrated plotted development in Neemrana is perfect for you. Located right on the main Jaipur Delhi Highway, the project offers exceptional connectivity. Also, the project is located in close proximity to the major establishments of Neemrana.
Manglam Rambagh is designed in a way to serve exceptional living standards to the residents while keeping their comfort and connectivity as the prime precedence. The plots for sale in Neemrana are equipped with amenities that serve their purpose beautifully and that is to offer great living experiences to the residents. The project offers amenities like a clubhouse, swimming pool, garden area, play area, basketball court, steam sauna, mini plex, and so much more to count on. Manglam Rambagh with its prime features and European architecture is just a perfect place for residence as well as investment.
If you want to build your dream abode nestled around nature, Manglam Rambagh is just the right place for you. Surrounded by acres of lush green gardens and also a bit far from the hustle and bustle of city life, you can enjoy a serene and peaceful life with your loved ones. Surrounded by natural beauty and with excellent connectivity to the rest of the city, Manglam Rambagh is a perfect place for you to give shape to your dream home.
Apart from the incredible picturesque beauty and exceptional connectivity, Manglam Rambagh is a conveniently located project that offers everything you desire from your dream home. The development has strong security and safety features along with traffic free surroundings giving you a peaceful residency experience.
Manglam Rambagh is developed by the well-known and trusted developers, the Manglam Group. With multiple projects in different sectors be it residential or corporate development, Manglam is a name known for its exceptional work of high quality and innovative projects.
So, if you are looking for a property in Neemrana that serves its purpose by delivering you a beautiful area for your dream home development, Manglam Rambagh is the right place for you.