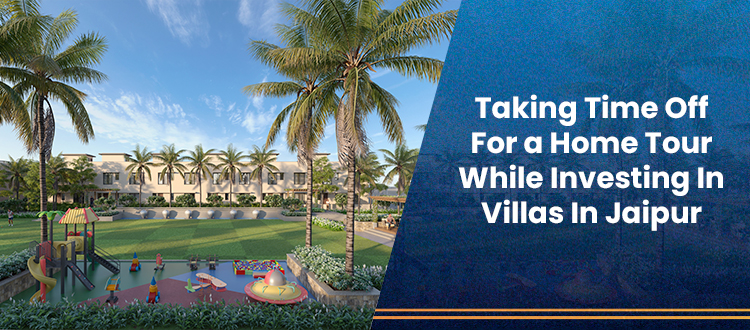 Taking Time Off For a Home Tour While Investing In Villas In Jaipur
With overexposure to digitalization, everything has turned digital.
Whether someone has to buy furniture, or something as small as a
packet of milk, everyone is choosing digital platforms. When it comes
to property investment, there are numerous digital platforms with
property listing, allowing you to pick your next home digitally.
But are online property platforms really credible? Can they be trusted
for your next big investment?
Let me be clear with you. When it comes to property, you can never
blindly trust a digital platform. Yes, you heard me right. It is crucial to
go visit the property physically before you put your money into it.
While buying villas in Jaipur, make sure you take out time to go visit
the property as it gives you the proper insight into the location,
amenities, construction quality, as well as the neighbourhood.
Consider the following reasons why it is important to visit the
property before investing in it.
1. Better Idea of the Traffic
We all know how traffic can affect the quality of our life. Taking
a tour of your prospective home allows you to get a good idea of
the traffic situation. In the case of villas on Ajmer Road, traffic is
never an issue. You get to live in a secure gated community
where only a limited number of vehicles will be allowed with no
outsider entry.
2. Location, Location, Location
Yes, location is a very crucial factor when it comes to investing
in a property. Visiting the property physically gives you an idea
of the right location which is quite difficult to understand in
terms of online property listings. Also, you can interact with
your neighbours to learn more about your neighbourhood.
3. The Correct Room Measurement
We all know how it is so easy to fool anyone online. Thus, taking
a physical tour of your property allows you to take a better look
at your property, inspect any damages, and also take the correct
measurements of the rooms. This also allows you to plan your
space better if you decide on investing in the property.
4. The 'off' Hour Tour
Visiting a property gives you an idea how you feel about the
space. Also, consider visiting the property at off hours like after
6 o'clock. You will have a good idea of the space. Also, without
the crowd of other prospective buyers, you will have enough
time to ask any questions to the builder.
Buying a home is a life-altering decision thus it is important to
not rush the process. Take enough time to establish a personal
rapport with the property. Visiting the property especially
during off hours gives you a good insight into all factors related
to the property.
Manglam Anantara is a beautifully planned and integrated villa
project that offers the biggest size 4 BHK luxury villas in Jaipur.
The villas are equipped with top-notch amenities and features
that aid an exceptional residency experience for you.