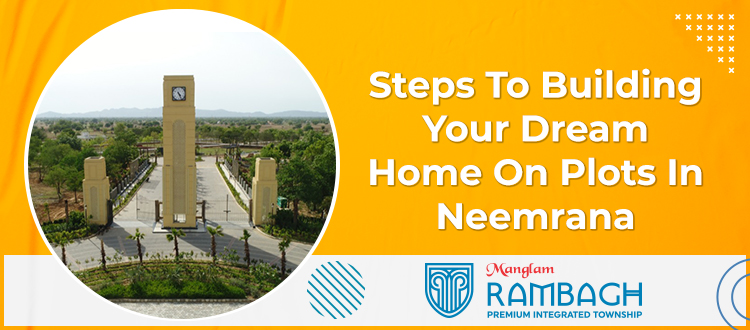 Steps To Building Your Dream Home On Plots In Neemrana
Building their home from scratch in a beautiful location is a dream for many. However, not only the process requires effort but also time. Moreover, it is also easy for you to get confused about where to start. All of us have high visions for our dream home. If you are planning to build your dream abode on a plot in Neemrana, let us help you start. We have mentioned a few stepping stones to building your dream home. This will help you avoid the most common mistakes and bring your dream of a home into a reality. 
Set the budgeting and costs
The one primary step to building your dream home is to have a clear idea of the budgets and expenses involved. Collect all the information on all the expenses involved in building your home. Take help from designers and architects, they will give a clear idea of all the costing involved. Make sure you have already subdued all the previous loans. If your savings are not enough, you can also consider financing options.
Consider the features you want in your dream home
Once you decide to build your new home, you are left with ample opportunities to mold your home in the way you want. You can add whatever you want and need according to yourself. So, once you plan on building your dream home on the property for sale in Neemrana, you need to make a list of every feature you want in your dream home. You can add a pool, a kid's room or a study room, whatever you need without any obligation.
Find an architect
Once you decided on the budgeting and the features you want, you are going to need an architect for your home. Get help from a professional to help you design your home. Give them a brief of what you want in your new home. They will prepare the design of your home according to your budget and needs.
Find a builder near you
Once your dream home is brought on the papers, the next step is to find a good builder to bring it to reality. A good contractor will efficiently supervise all the work and build your dream home in a reasonable time. 
Once your home is ready and you already worked on all the legalities, your dream home on plots in Neemrana is ready to move in. Move into your home and enjoy your life to the best with your loved ones. All the steps to building your dream abode require dedication, determination, and perseverance. With all that, you will be able to achieve the dream house the way you always wanted. 
Manglam Rambagh is a beautifully integrated township in Neemrana that offers residential and commercial plots in Neemrana. The plots for sale in Neemrana are perfect for you to build your dream home and enjoy a life equipped with high-end amenities.