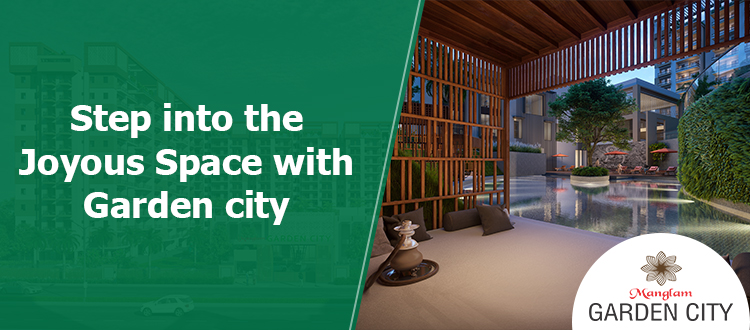 Step into the Joyous Space with Garden City
Choosing the perfect flats in Jaipur among all the available choices can be a tedious task indeed. The four-letter word 'HOME' instils thousands of feelings within us. With time, people's preferences have changed, and buyers make decisions keeping in mind a lot of things as these investments are one-time and need to have a futuristic approach.
Living with our loved ones
Understanding buyers' current and future needs, A perfect blend of elegance & serene environment developed at Manglam Garden City compliment modern lifestyle and comfort, rekindling inner desires to live in a well-designed home that delivers positive energy.
The Element of Space
A prominent consideration that one should consider is that of spaciousness. Our homes are our comfort zones. After a perfectly scheduled energy-squeezing day, we all need comfort, relaxation, and a heart-warming time with our families. Our personal space is something that has become a must for all of us. We all need that little time and space wherein we can enjoy ourselves and ponder our own growth. Everyone loves to live in 3 BHK flats in Jaipur; with more space, the home looks aesthetic
Think about Future
Age and need are the two things that always keep escalating. Older members of our family have often lived through wars or seen more challenging times and are a source of inspiration for younger family members. Their stories of adversity or simply of navigating life over a long time can help children to realize that life can be navigated through determination and hard work. Often buyers forget or neglect their future needs while opting for homes and choose the one which suits them best to their current needs. Therefore, it is a must and in fact judicious, for one to give a thought to future needs of space and family expansion. For having ample space for a growing family buying a 3 BHK apartment in Mansarovar Jaipur would be a wise decision.
Luxury Quotient
Luxurious 3 BHK flats in Jaipur Mansarovar Patrakar Colony involve generous living spaces and include an element of exclusiveness, rather dream for every individual, that while adding to the status symbol, involves all the comforts for an elegant lifestyle. With growing desire among individuals to have an opulent lifestyle, coupled with lower interest rates & the need for spacious homes, has seen a spurt in demand for luxury apartments.
Living at a 3 BHK apartment in Mansarovar Jaipur in Manglam Garden City is like living in nature's lap. Spectacular breath-taking view and ample greenery around opens the door to a lifestyle beyond your imagination and elevates your status symbol to reach the pinnacle of opulent living.