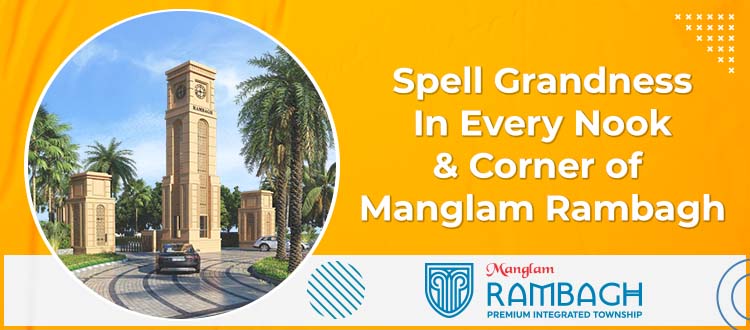 Spell Grandness In Every Nook & Corner of Manglam Rambagh
In the heart of Neemrana, there is Manglam Rambagh which stands out from every other township project in Rajasthan and nearby states. With a ripple of luxury, the township is designed to foster a quality lifestyle for the residents. The township in Neemrana offers property for sale in Neemrana in proximity to some of the most captivating establishments. Rambagh presents a luxury lifestyle on every site and is ready to offer the best lifestyle to some of the chosen few. But how and why Manglam Rambagh stands out? What special does it offer to create a ripple in the real-estate market? Let's answer this question forward.
What exactly do we first think of when we plan on buying a plot for building our dream home? Location, right? This is the first and foremost benefit of buying a plot for sale in Neemrana. Neemrana is thriving and is on its way to becoming the next Gurugram. The city has seen enormous growth and development and offers a promise of returns to property buyers.
The second factor which greatly impacts our property buying decision is the amenities. Manglam Rambagh is a haven of amenities. From luxury clubhouses to pacifying swimming pool dives, you can uncover every luxurious comfort here. The property for sale in Neemrana reveals a new manifestation of luxury for you.
Manglam Rambagh is a masterpiece of its own kind. Spread over 80 acres of land, connecting artery roads to luxuriant greenery, Manglam Rambagh is no doubt heaven. The lush green landscapes and panoramic views will fill your life with serenity to the brim. It evokes grandness in every corner and also fulfills your dream of luxurious living.
The list doesn't end here. The most impressive factor about the plots in Neemrana is the multiple options it provides. From plot adjoining options and varied sizes of plots to choose from, the township also offers ample parking spaces, open areas, underground service lines, and separate facility areas to add comfort to the life of residents.
If you are ready to indulge in luxury and greatness, Manglam Rambagh is perfect for you. From high-end contemplating amenities to peaceful and extravagant lifestyles, Manglam Rambagh has so much to offer. Buy a residential or commercial plot in Neemrana and experience life in its most magnificent form.