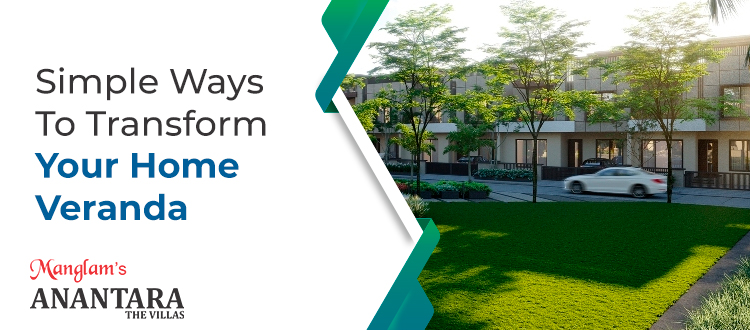 Simple Ways To Transform Your Home Veranda
There is no secret that a beautiful and cosy outdoor space not just adds to the aesthetic of a house but also is an excellent way to bring family and friends together. It not only is a perfect space for evening time but also is an immaculate  space to host guests. Thus to give an appeal to your outdoor space, one can make some simple yet significant changes that will greatly influence the look and feel of the space.
Manglam Anantara is a beautiful villa project on Ajmer Road that offers 4 BHK luxury villas in Jaipur sufficed with extravagances and comforts aiding a perfect life for you.
Some of the simple ways to transform your outdoor space are:
Switch Up The Lighting
Lighting plays a key role in enhancing the features along with the aesthetics of a space. Thus installing warm downward-facing lighting can significantly enhance the exterior making it perfect for evening get-togethers. You can pick the lights according to the dimensions of the space available along with the sense you want to create.
Declutter Your Porch
If you want your outdoor area to be inviting, do some cleaning. Declutter your outdoor space and remove anything that doesn't aid appeal to the space and also makes it look messy. The villas in Jaipur are perfectly developed with enough outdoor space allowing residents to experiment and aid an appeal to their home.
Touch Up Your Paint
Updating or repainting your outdoor space is a great way to add freshness and appeal to your home. This not only enhances the liveliness but also is a great way to experiment creating sensual outcomes.
Make It Green
Adding flowers, plants, and fun planters is a great way to add a fun element to your outdoors. Using pleasing flower pots with gorgeous blossoms along with hanging plants in well-manicured gardens are perfect to add beauty to your outdoors.
Ready to transform your veranda?
These were a list of simple ways you can transform your outdoor spaces without spending big bucks. If you are looking for a new home with a beautiful porch, we have a property for you. The beautiful Manglam Anantara by Manglam Group offers 4 BHK luxury villas on Ajmer Road perfect in every sense fostering a lifestyle advancement for you.