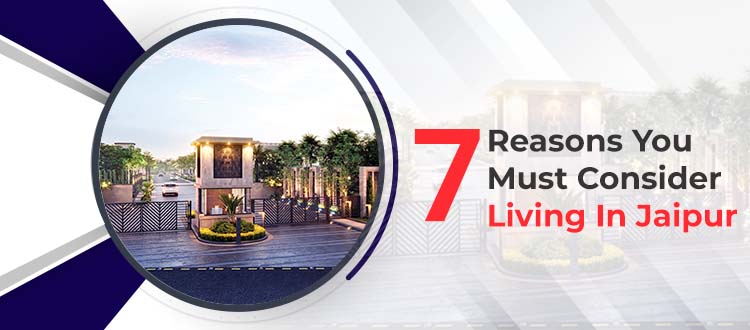 Seven Reasons You Must Consider Living In Jaipur
Jaipur is a land of traditions and cultures.
For many years, the pink city has been an attraction among foreign tourists as well as Indians. In recent years, people from all over India are considering moving to Jaipur. What is about Jaipur never fails to draw the attention of people? Why are more and more people considering moving to villas in Jaipur?
Let's find out about the reasons behind it, but before that, if you are also planning to move to Jaipur, Manglam Anantara is a beautiful project in Jaipur that offers 4 BHK luxury villas on Ajmer Road, a beautiful home for you in the new city.
Architecture
The beautifully planned city has some of the best architecture along with wide roads, cleanliness, and no traffic. Jaipur is an ideal place to call home, mostly because of its architecture.
Low Crime Rate
Jaipur city is one of the safest cities in India, especially for women. One can never think of walking alone on roads at night in cities like Delhi and Gurgaon but it is not the case for Jaipur. All thanks to the vigilant police force of Jaipur that never take their duty lightly.
Quality of Life
Jaipur is no less than other metro cities in terms of infrastructures like schools, international airports, hotels, and hospitals. But one thing that tops the list is the quality of life. You can breathe in toxic-free air in pristine condition at Jaipur. You can buy one of the beautiful villas on Ajmer Road and live the best quality of life in Jaipur.
Shopping and Lifestyle
If you are someone who loves shopping, Jaipur is the place for you. The numerous markets with handicrafts, beautiful juttis, fabrics, and crafts never go out of style. Jaipur is a heaven for shopping lovers.
Weekend Getaways
Jaipur is surrounded by some beautiful cities like Udaipur, Ajmer, and Pushkar. You won't ever feel monotony. All these places are beautiful in their unique sense. They all are just a few hours away from Jaipur, so an excellent weekend getaway for you.
Food Heaven
Needless to say, Rajasthani cuisine is one of the best, and to have uninterrupted access to this mouthwatering cuisine is a plus. Jaipur has some of the most sophisticated restaurants that serve authentic Rajasthani food along with street-style food that goes easy on the pocket.
Nightlife
If you are young and want to settle in a place where you can enjoy the nightlife, Jaipur is the city for you. Only in Jaipur can you experience nightlife in two very distinct ways- dancing on crazy songs in the clubs or standing on top of the Nahargarh fort with all the city lights falling below you, wallowing in the calm and quiet.
Jaipur is a city that will offer you an overall package of adventures, traditions, aesthetics, and beauty. If you are planning to move to Jaipur, you have made an excellent choice. Also, Manglam Anantara located on Ajmer Road is an inclusion to Jaipur's beauty. They present 4 BHK villas on Ajmer Road that are ideal abodes with state-of-the-art amenities that fill your life with opulence and magnificence.