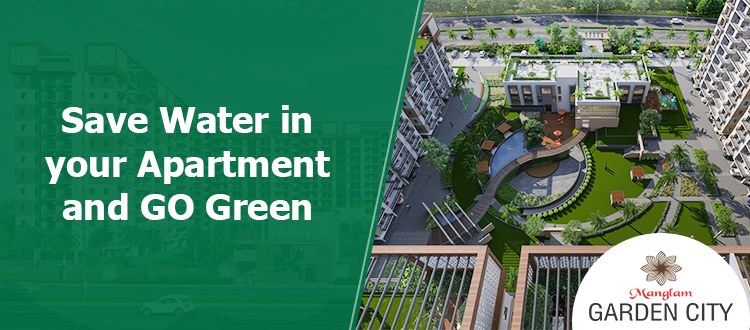 Save Water in your Apartment and GO Green
Jaipur's hot summer needs careful management of water and other scarce resources. There has been a history of water scarcity in Jaipur, but upscale flats in Jaipur there guarantee their tenants a steady flow of running water. Despite this amenity, it is the job of every person to jointly assist preserve water. The city benefits from these water-saving practices because the supply is more evenly distributed. When water use is reduced, the associated costs go down as well.
Identify and remediate leaks
Leaks are a widespread issue in both inhabited and vacant apartments. It might be from not closing the fittings correctly to fixtures that were not installed completely. Check any plumbing fixtures inside your house and make sure that they are not leaking. Residents should organize to have their HOAs check the plumbing and other infrastructure in vacant units, with the approval of the building's owners and the developer, and address any issues as soon as possible before the summer heat sets in.
High-performance water Metres
Each unit in a high-rise apartment building in Jaipur is equipped with a water meter. To reduce water waste, it helps to have a concrete number to aim for. View your household's consumption rates and see how they stack up against the national average. The amount of water you use each month will be reflected in your utility bill. Reduce your monthly water bill by cutting back on your usage. By making some simple adjustments, you can find creative ways to get everyone in the household involved in saving water.
Modern kitchen and bathroom fittings
There are taps available that are actuated by sensors and give out just a short trickle of water. This means we won't accidentally waste water when washing our hands or teeth by leaving the faucet open. These faucets may also be fitted in the kitchen to prevent the constant flow of water while dishwashing. As a result, much less water is used in the 3 BHK apartments in Mansarovar Jaipur. If you want to save water, take shorter showers with less water pressure. Additionally, instead of the standard ten or more liters of water that are used by older flushing systems, there are now systems available that just need five or so.
Making energy efficiency a regular practice
Our everyday actions have the greatest impact on water use and conservation. Water conservation is entirely within our sphere of influence. It's as easy as making sure the tap is completely closed after use or turning it off after we're done brushing our teeth. We always remember to turn off the gas when we leave the house or leave town, but we rarely remember to make sure all the faucets and toilets are closed. When temperatures are low, watering plants is a good idea since the moisture won't evaporate as quickly.
Make a point of doing these little things at your 3 BHK flats in Jaipur and passing them on to your loved ones and friends. Call a gathering of the locals and brainstorm water-saving measures. Stress the significance of water and how crucial it is to our life and comfort. Find economical approaches to making this happen. When it comes to water conservation, even the tiniest of adjustments may have a significant effect.
Manglam is a well-respected builder in the industry. Our 3 BHK flats in Jaipur Mansarovar Patrakar Colony are very appealing to first-time purchasers. All of our buildings come standard with state-of-the-art water-saving measures. However, we urge all homeowners and residents to do their bit in conserving water use so that everyone may get through the hot summer months in relative comfort and ease.