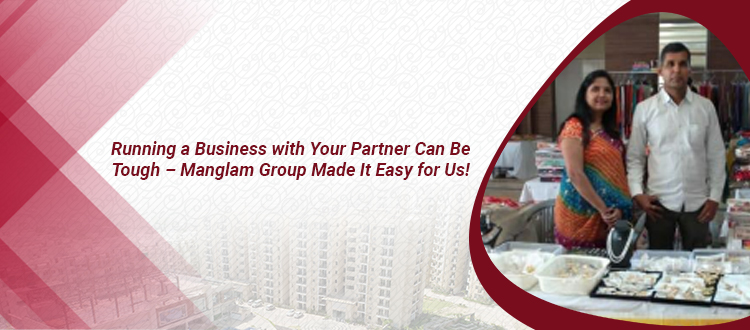 Running a Business with Your Partner Can Be Tough – Manglam Group Made It Easy for Us!
Have you ever thought of working with your partner? If yes, are you ready to cope up with everything that comes your way? Love, romance, and all couple-couple things are different, but when it comes to working together, the whole equation between you and your partner changes.
To make this process easier for you, Mr. Dhan Kumar Jain and Mrs. Priyanka Jain share their experience of working together and how their home at Manglam Group society helped them to handle the situations better.
Many times, I have seen people asking me that how I can work with my husband on a regular basis, and it's been a long that I keep on telling them that it is bliss to work with your partner, only if you understand each other's perspective and approach.
Dhan and I have been lucky enough that we shared the same passion for introducing unique jewelry pieces to people who love to allure themselves. While going through the course of our lives, we never let our love and romance come between our work and never let our work affect our relationship. This is the key to work together happily.
To make this thing work more for us, we shifted to Manglam Ananda. Due to our society offering enough workspace to us. We made the flat in front of our home as an office. This decision helped us a lot as we didn't need to move anywhere in order to work. We saved the time we spent traveling.
Then we decided to set our goals and expand our business. We knew that we had to divide different sections for each other and manage them individually to grow ourselves as business partners. We began making small goals at first and then began to divide tasks between. As the workflow got increased, we began to find new team members to grow our team and bifurcate the work properly.
After having our separate tasks for the day, we knew that we were going right. With the management of our work, we are slowly learning to manage our personal lives too. And, going this way, we are willing to encourage other couples who are willing to work together, but some insecurities are stopping them anyhow.
This was our experience of working together, and we pray for all the people who're willing to do so. May we all perform the best in our lives.