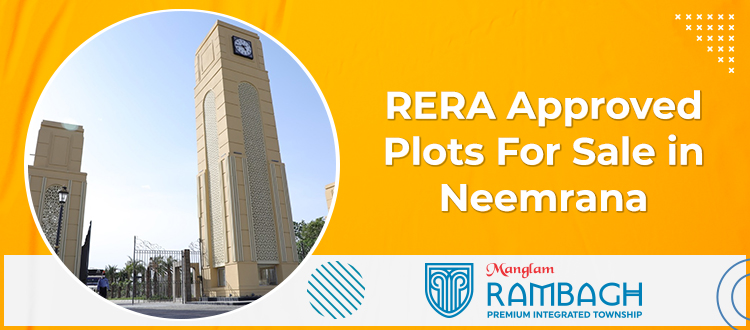 RERA Approved Plots For Sale in Neemrana
When it comes to buying plots, one important factor to look for is RERA approval. Before buying a property in Neemrana, it is important to know all the jurisdictional limits of the area. Also, not only does the RERA approval ensures a shield against a constant threat of project delays but also the excessive builder charges on underdeveloped properties. 
Manglam Rambagh is a beautifully developed project by Manglam Group that offers multiple benefits to buyers while buying plots for sale in Neemrana. One important advantage of buying a plot in Manglam Rambagh is transparency. Total transparency during dealing is assured along with a guarantee that you don't have to face any construction-related complications. 
Neemrana is one of the forthcoming areas in Rajasthan with a promising future. Not only does Neemrana has rapid developmental growth but also is rich in traditions. Many international companies are setting themselves in Neemrana. The area is also home to many educational, recreational, medical establishments, entertainment centers, etc. Neemrana is one of the best locations in Rajasthan to invest in a property for sale in Neemrana with a promise of great value returns in the future. 
Prime Network
Manglam Rambagh places you in the zenith of some of the top IT hubs, Japanese zones, world-class facilities, and other newly proposed top-notch projects. Also, Neemrana falls under the Delhi–Alwar Regional Rapid Transit System (Delhi–Alwar RRTS) that would ensure great connectivity for the residents of Rambagh between some significant locations. Some of the hospitals like Max Force Hospital, City Hospital, etc along with top-notch educational institutions are also in close proximity.
Brand Reliability
Manglam Group is one of the most renowned real-estate builders and developers in Jaipur with a mission to serve quality living experiences to Indians with community development. Also, the group has multiple years of experience and has continued to offer the best residential and commercial projects in Rajasthan. They have a long history of success in construction and development. 
Comforts and Facilities
The world-class amenities offered at Manglam Rambagh include an exclusive clubhouse that includes state-of-the-art amenities like a modern gymnasium, steam sauna, function hall, kids play area, games room, swimming pool, and many other amenities that can easily add convenience and luxury to your life. Also, these amenities are a great reason to invest in a property in Neemrana.
Plotted developments by Manglam Group in Neemrana are great with respect to investment. The RERA-approved plots in Neemrana sought to offer the best living experiences to the residents. Not only that, the plots for sale in Neemrana offer all luxury amenities under one roof that significantly improve the living standards of residents. Moreover, the unmatched services of the company make it stand apart from other builders in Rajasthan.