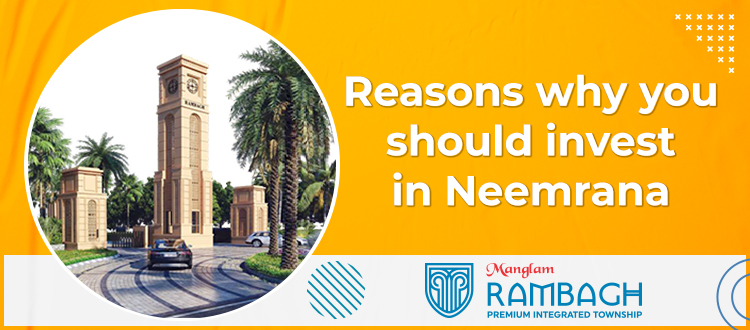 Reasons why you should invest in Neemrana
Neemrana is an upcoming residential and commercial space for the dreamers of a beautiful abode and a profitable business. Neemrana has commercial property for sale, namely Manglam Rambagh which is an integrated township. With a blend of residential and commercial property in Neemrana being available, it is hugely beneficial for prospective buyers if they invest here. Following are the advantages of buying land in Neemrana:
Low Rise and Low Density- Plots for sale in Neemrana merges the best elements of urban and suburban development points: numerous public transportation options like bus, autorickshaws, easy access to urban services, public open space where residents can cherish natural lush green spaces which can reduce sprawl and efficiently and efficiently make use of the limited space found in the urban environment.
Smart City Solutions Available: The integrated township in Neemrana aligns with the concept of inclusive housing. The township has naturally designed walkable localities, around the green environment which reduces congestion, promotes interactions amongst members, and ensures security through the gated community. It has well-preserved and developed open green spaces like parks, playgrounds, and recreational spaces to increase the quality of life of citizens and reduce the urban heat effects. The Transit-Oriented Development and availability of various means of public transport are added features.
Prime Location: It has a multitude of locational advantages. It is situated at the midpoint of Jaipur- Delhi Highway which is also a part of the Delhi- Mumbai Industrial Corridor which is going to be of high significance when industrial development and economic benefits are to be considered. The modern amenities are widely available and the social infrastructure around the area like the presence of schools and hospitals is also highly appreciated. The limelight of the residential property in Neemrana is easy accessibility and the kind of surroundings it possesses. It has a blend of green and clean environment and an external surroundings framework that can be developed into a pocket industrial area where new shops and small and mid-sized business establishments can be developed.
Secured Premises: An added high quality of Manglam Rambagh is that it is safe and secure from the business of the daily traffic on the main road. The community is gated and numerous roads connect lanes and sub lanes. Commercially, it is going to be a boon for business establishments as for small businesses, safety and security is a primary concern.