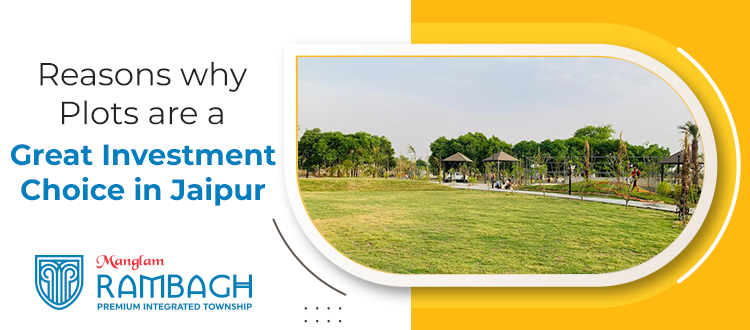 Reasons why Plots are a Great Investment Choice in Jaipur
Are you someone who has been planning to invest in real estate?
Are you confused about which is a better investment option for you? With lots of investment options available, it becomes tough for some people to pick the right decision.
Investing in real estate is one of the best investment decisions in the long term. For some, buying a well-furnished apartment appears to be an obvious choice but investing in plots overweighs this in many aspects. Plots offer way more pros in comparison to apartments for real-estate investment in Jaipur.
Manglam Rambagh is an integrated and luxurious township in Neemrana that offers residential and commercial plots in Neemrana. This property for sale in Neemrana offers high-end luxuries for your convenient habitation and is a luxury landmark on the main Jaipur-Delhi Highway.
Let's take a look at five solid reasons to invest in a plot for your future:
Affordability:
For most people, investing in a property is a big decision and is a part of their biggest dreams. An average Indian has to save for years to be able to buy a property. Buying plots in Neemrana is a far more achievable milestone for them than a furnished flat or villa. Besides, the property tax one has to pay on plots is way less than flats or villas. This is the reason why plots are better options in terms of affordability.
Value Appreciation:
Plots are one of those investment properties that are always in demand. Plots value constantly appreciates with time in contrast to constructed properties like apartments and villas. With the development of infrastructure and planning around the chosen property, the value of the plot will definitely boost with stretch. For someone who is buying a property solely for investment, plots are the best pick as they offer great returns on investment.
Flexibility:
Plots offer you flexibility in sense of your choices. You can build your dream home as per your taste, affordability, and whenever you want to. Plots are the piece of land that allows you to play with the structure, configuration, size, and design of the house as per your requirements and needs. They offer you as much freedom as you need.
Security:
Plots offer you security in terms of possession. In the case of apartments, there might be a delay in possession because of construction but this is not the case in flats. Moreover, plots also offer assured security from natural calamities like earthquakes and floods. One doesn't have to worry about the aftermath with collateral damage. Moreover, buying plots on Jaipur-Delhi Highway in gated communities like the Manglam Rambagh offers much more security and face value.
Great Long Term Returns:
Plots serve to be a great long-term investment. Buying a plot in a luxury township in Neemrana yields great long-term returns. The value of plots appreciates over the years in contrast to a constructed property which depreciates with each passing year.
After all these particulars, it is obvious that plots are a better investment choice. They serve great future yields and are a safe form of investment. But, one should always make these big investment decisions thinking thoroughly through their financial situation, requirements, and goals.
Manglam Rambagh is a micro-city/ Integrated Township that offers commercial and residential property in Neemrana, that is well established among the lush greens and great amenities that serve to be the best location for your dream home.