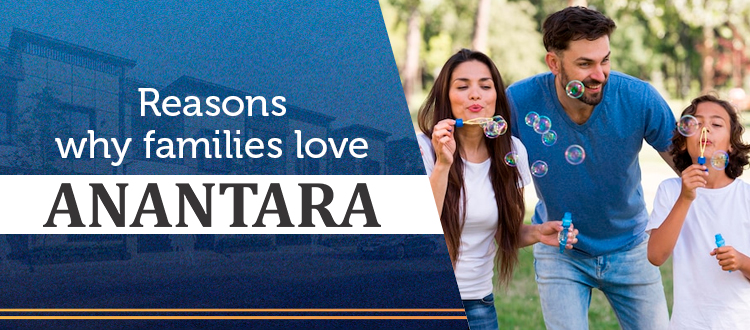 Reasons why families love Anantara!
If you are planning to purchase a villa, you should look no further than the Manglam Anantara.
A villa gives you more luxury benefits than an apartment and your family gets the best amenities ever. There are not one, two, or three reasons to love Anantara the luxury villas, but there are many more behind choosing such aesthetic design villa.
T Let's find out the reason why families love Anantara villas.
The first important thing that attracts families to Anantara is its luxury amenities. The services and amenities offered by the developers, engage an individual to purchase the villa. The natural environment, gated community, and separate areas for kids and senior citizens, all things are designed with every segment of people. Thus, the taking care of every age group by Manglam Anantara is another reason behind families' love towards Anantara.
The second thing is the "place of your dream". The luxury villa is a dream of many people. A lush green environment, aesthetic design villa with big size. Anantara villas do not teach you to adjust but a spacious big-size villa keeps all your little things fit perfectly. Hence, from the environment to the size of the villa, everything keeps your view and becomes a reason to love Anantara.
Everyone wants a secure environment for their families. It is the sole reason, people purchasing their homes in the township. It gives you a sense of security and safety to protect you from any theft and risk. Anantara is safe and secure for your family, as it is on surveillance 24*7, CCTV, Intercom, etc. All these things keep your family safe from distinct risks and potential issues.
Anantara the villas is a whole new level of luxury with unmatched natural vistas. The villas are constructed with Shilpa Shastra and Vastu, to keep you financially, physically, and mentally fit and gives you an auspicious environment.